Who We Are
ᑭᓇᐅᓂᕗᑦ
We are the regional voice of Nunavut's Qikiqtani Inuit.
Our Mission
Qikiqtani Inuit Association (QIA) advances the rights and benefits of Qikiqtani Inuit through protecting and promoting our social, political, economic and cultural interests; while safeguarding the land, waters and resources that sustain our communities.
Our Vision
Political and cultural empowerment, social equality, economic prosperity and a healthy environment for Qikiqtani Inuit.

Our Role
QIA is the Regional Inuit Association for the Qikiqtani Region of Nunavut, representing 51 per cent of Inuit living in the territory located in the Canadian Arctic.
QIA is a Designated Inuit Organization under the Nunavut Agreement. QIA is one of three Regional Inuit Associations affiliated with Nunavut Tunngavik Inc.; the other associations include the Kitikmeot Inuit Association and the Kivalliq Inuit Association.
We work closely with our partners, such as Inuit Tapiriit Kanatami and the Inuit Circumpolar Council Canada, as well as different levels of government, to represent Inuit in the Inuit Nunangat, the Inuit homeland.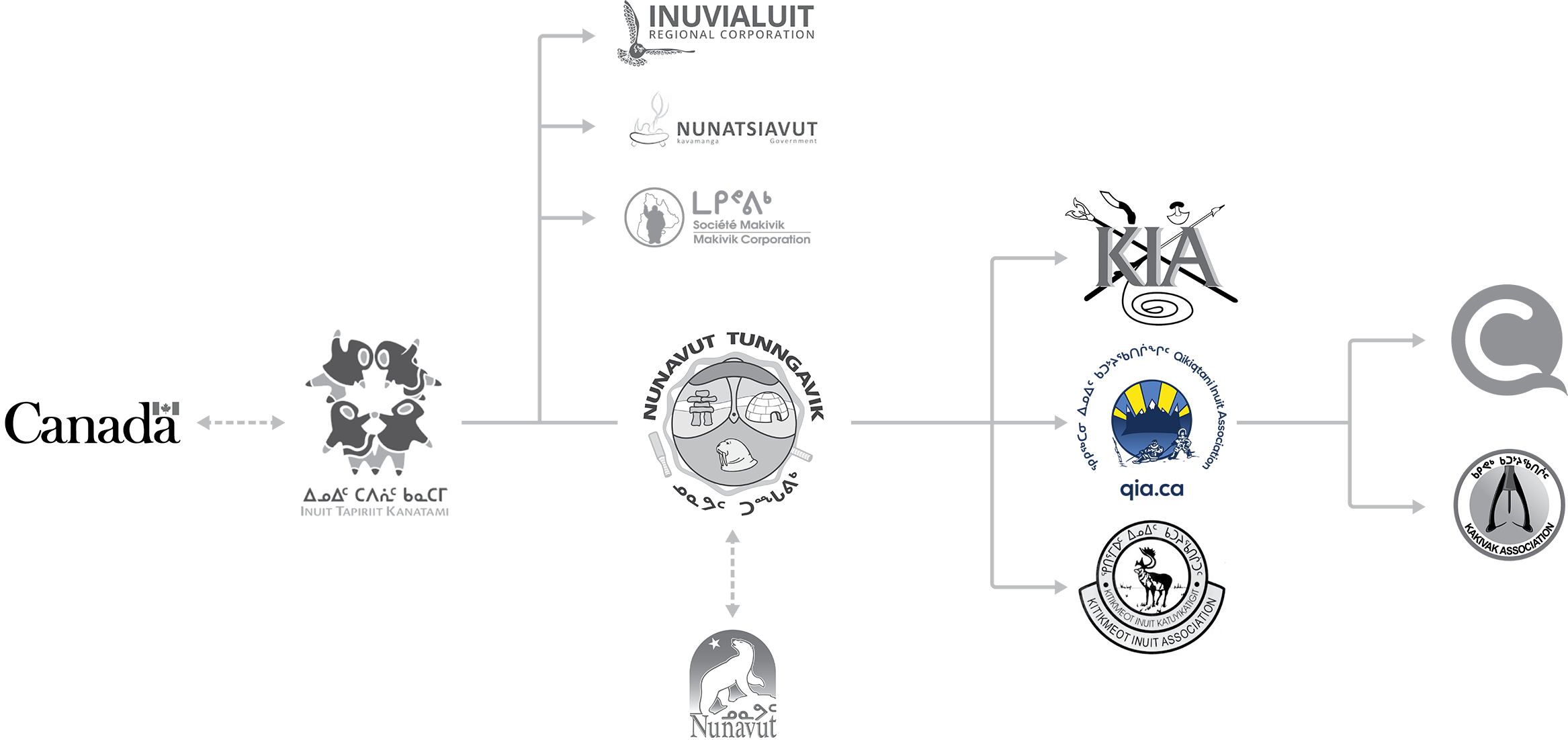 The Nunavut Agreement dedicates 356,000 km² of the land in Nunavut as Inuit Owned Land –almost the size of Newfoundland and Labrador.
This represents 17.7 per cent of the Nunavut Territory. These parcels of lands are titled to Nunavut Tunngavik Inc. (NTI). NTI designated the responsibility of the Inuit Owned Land to the Regional Inuit Associations. Nearly half of Inuit Owned Land is in the Qikiqtani Region, making QIA one of the world's largest private landowners. QIA manages the Inuit Owned Lands in the Qikiqtani Region.

Our Team
QIA headquarters is based in Iqaluit, Nunavut. We have over 80 employees with representation in every Qikiqtani community.
Board of Directors
The QIA Board of Directors includes 13 Community Directors who are elected by Inuit in each of their respective Qikiqtani communities. The Executive Committee of the Board includes a Secretary-Treasurer, Vice President and President who are elected region-wide as well as three Community Director members at-large appointed/elected by the Board.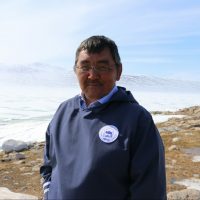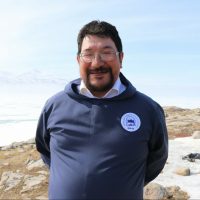 Levi Barnabas
Vice President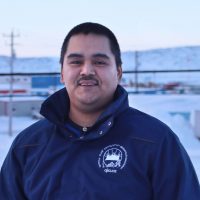 Jeremy Tunraluk
Secretary-Treasurer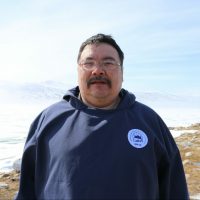 Tommy Akavak
Member at Large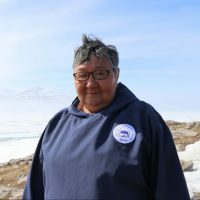 Liza Ningiuk
Member at Large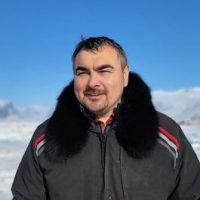 Charlie Qumuatuq
Member at Large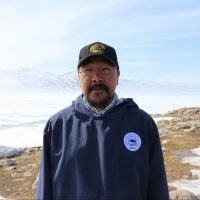 Mike Jaypoody
Clyde River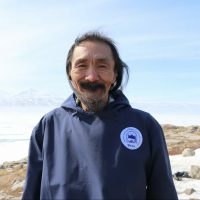 Paul Amagoalik
Resolute Bay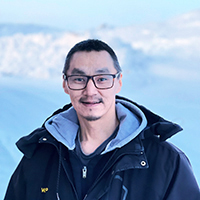 Davidee Qavvik
Sanikiluaq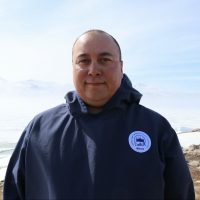 Steven Polee Lucassie
Iqaluit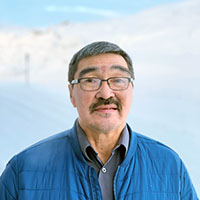 Solomon Allurut
Sanirajak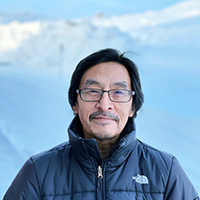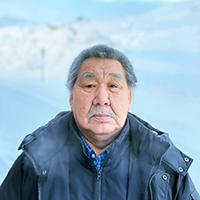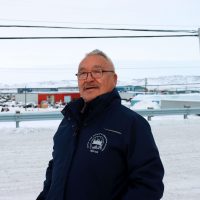 Stevie Aulaqiaq
Qikiqtarjuaq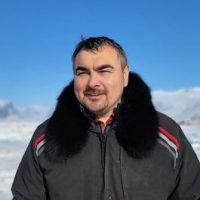 Charlie Qumuatuq
Pangnirtung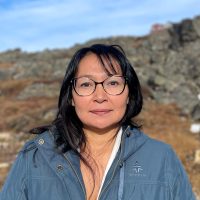 Darlene Willie
Arctic Bay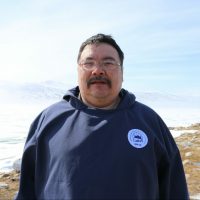 QIA President
P.J. Akeeagok was first elected president of the Qikiqtani Inuit Association in 2014 and was reelected in 2018. Originally from Canada's most northern community, Grise Fiord, Akeeagok has devoted his career to representing Inuit in Nunavut. Prior to becoming QIA's president, Akeeagok served in numerous roles with Inuit organizations, including Nunavut Tunngavik Inc. and Inuit Tapiriit Kanatami.
Department of Executive Management

Responsible for Board and Executive relations and overseeing the work of all QIA departments.
The department of Executive Management includes Human Resources, Information Technology, Administration & Community Liaison divisions.
Department of Communication
Responsible for internal and external communications and publications, major event planning, campaigns, and promotions.
Department of Marine and Wildlife

Responsible for leading implementation of priority initiatives related to Inuit Impact Benefit Agreements (IIBA) for National Parks, National Wildlife Areas, National Historic Sites, National Marine Conservation Areas, Marine Protected Areas, and Indigenous Protected Conservation Areas and works to advance the conservation economy in the Qikiqtani Region
Department of Lands and Resource Management
Responsible for the management of Inuit owned lands.
Department of Inuit Qaujimajatuqangit and Engagement
Responsible for protecting Inuit rights, advancing Inuit priorities, managing Inuit-led research and for using Inuit Qaujimajatuqangit in decision making, research, wildlife protection and community engagement
Department of Social Policy
Responsible for social and cultural policy and programming, the Qikiqtani Truth Commission, youth programs and community-based research initiatives.
Department of Finance
Responsible for the financial aspects of running the organization.
QIA Community Liaison Officers
QIA employs Community Liaison Officers (CLOs) in each of the 13 Qikiqtani communities.
| | | | | | |
| --- | --- | --- | --- | --- | --- |
| Oolana Nuqingaq | CLO Supervisor | P.O. Box 1340, Iqaluit, NU X0A 0H0 | ph: 867•975•8449 | Fax: 867•979•3238 | onuqingaq@qia.ca |
| Jack Willie | Arctic Bay | P.O. Box 69, Arctic Bay, NU X0A 0A0 | ph: 867•439•8277 | Fax: 867•439•8217 | jwillie@qia.ca |
| Nina Qillaq | Clyde River | P.O. Box 159, Clyde River, NU X0A 0E0 | ph: 867•924•6119 | Fax: 867•924•6120 | nqillaq@qia.ca |
| Jaypetee Peter | Grise Fiord | P.O. Box 74, Grise Fiord, NU X0A 0J0 | ph: 867•980•4076 | Fax: 867•980•4078 | Jpeter@qia.ca |
| Sidonie Ungalaq | Igloolik | P.O. Box 84, Igloolik, NU X0A 0L0 | ph: 867•934•8760 | Fax: 867•934•8562 | sungalaq@qia.ca |
| Martha Nowdlak | Iqaluit | P.O. Box 1340, Iqaluit, NU X0A 0H0 | ph: 867•975•8420 | Fax: 867•979•3238 | mnowdlak@qia.ca |
| Perry Ikkidluak | Kimmirut | P.O. Box 82, Kimmirut, NU X0A 0N0 | ph: 867•939•2135 | Fax: 867•939•2134 | pikkidluak@qia.ca |
| Jutai Toonoo Jr. | Kinngait | P.O. Box 151, Kinngait, NU X0A 0C0 | ph: 867•897•8638 | Fax: 867•897•8650 | jtoonoo@qia.ca |
| Sheena Machmer | Pangnirtung | P.O. Box 633, Pangnirtung, NU X0A 0R0 | ph: 867•473•8991 | Fax: 867•473•8994 | smachmer@qia.ca |
| Joanna Innualuk-Kunnuk | Pond Inlet | P.O. Box 151, Pond Inlet, NU X0A 0S0 | ph: 867•899•8640 | Fax: 867•899•8642 | JInnualuk-Kunnuk@QIA.ca |
| Lorna Kullualik | Qikiqtarjuaq | P.O. Box 239, Qikiqtarjuaq, NU X0A 0B0 | ph: 867•927•8195 | Fax: 867•927•8196 | lkullualik@qia.ca |
| Susan Salluviniq | Resolute Bay | P.O. Box 116, Resolute Bay, NU X0A 0V0 | ph: 867•252•3997 | Fax: 867•252•3129 | ssalluviniq@qia.ca |
| Julie Emikotailak | Sanikiluaq | P.O. Box 90, Sanikiluaq NU X0A 0W0 | ph: 867•266•8162 | Fax: 867•266•8163 | jemikotailak@qia.ca |
| Lily Arnaqjuaq | Sanirajak | P.O. Box 9, Sanirajak, NU X0A 0K0 | ph: 867•928•8103 | Fax: 867•928•8114 | larnaqjuaq@qia.ca |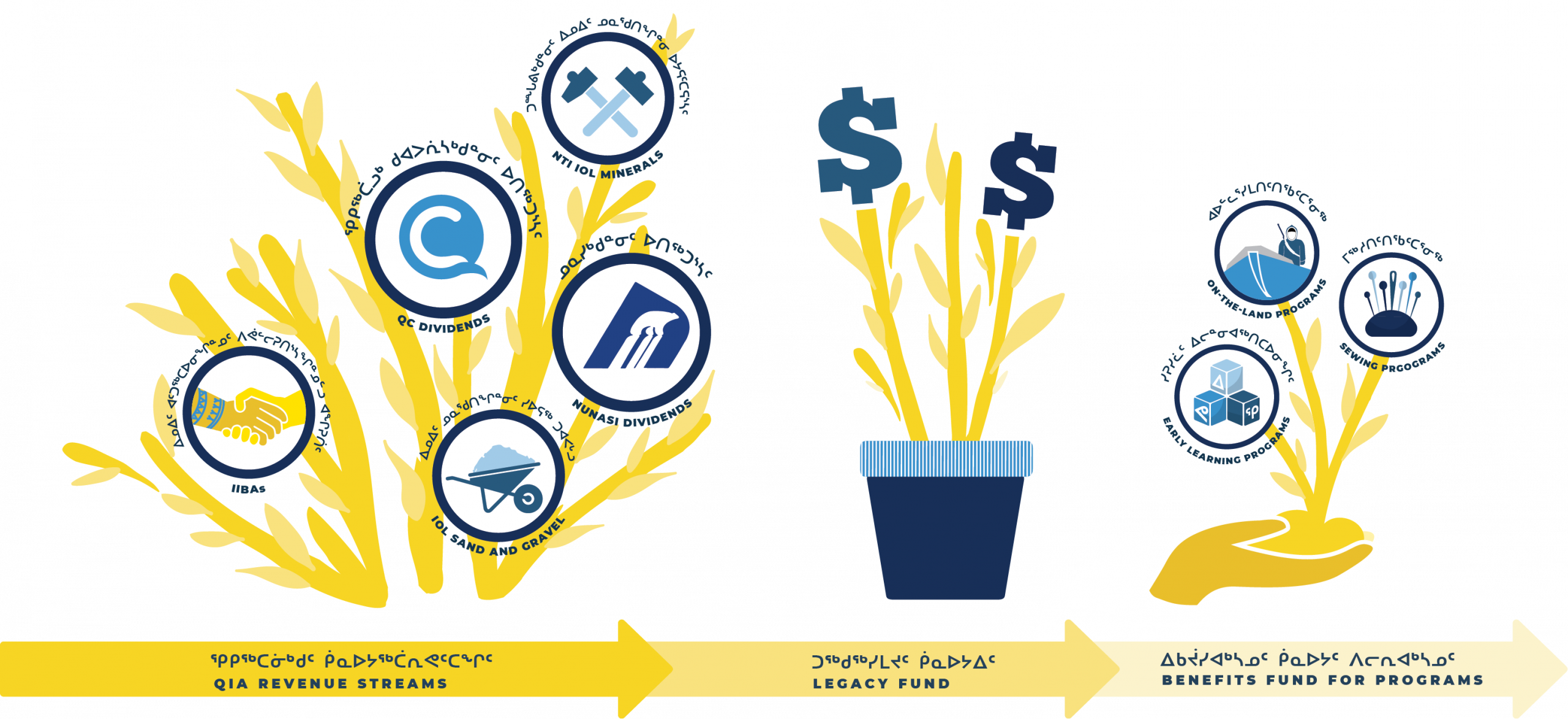 In October 2016, QIA established a new Revenue Policy to guide how our revenues would be invested and distributed to better serve Qikiqtani Inuit. The goal was to ensure clear and transparent reporting of how money is invested and used. The Revenue Policy created two new funds:
The Legacy Fund, which invests money for the future
The Benefits Fund, which delivers programs to Inuit
The Legacy Fund revenues come from numerous sources such as payments from Inuit Impact and Benefit Agreements (IIBA), revenues received from Nunavut Tunngavik Inc., from mining of Inuit Owned Minerals, revenues received from sand and gravel projects on Inuit Owned Land, dividends from the Qikiqtaaluk Corporation and Nunasi Corporation, and Legacy Fund investment revenues.
The Benefits Fund is used for social and cultural programs in the Qikiqtani Region. The Benefits Fund receives payments from the Legacy Fund with an annual target return on investment of four per cent, which is calculated and adjusted after releasing the audited financial statements. As the Legacy Fund grows, the Benefits Fund grows. This way, QIA can ensure a stable base of funding to run programs today while looking to expand programs in the future.
The Benefit's Fund Annual Report details the programs delivered through the Benefit's Fund.