QIA celebrates third annual Inuktitut Language Month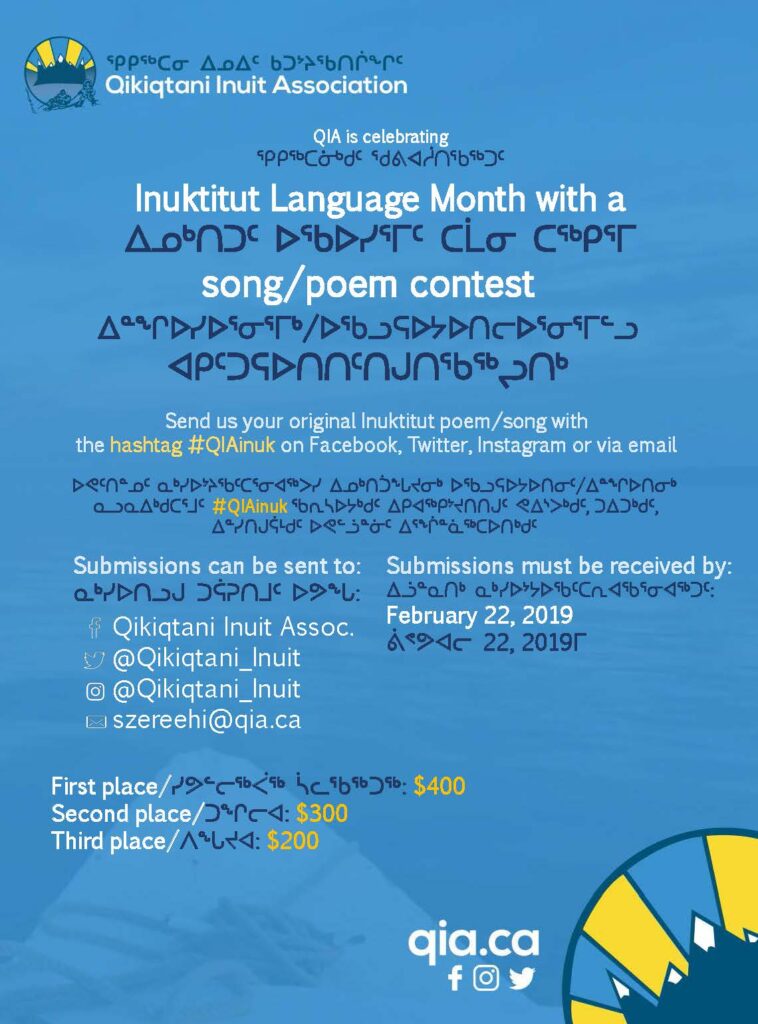 Iqaluit, Nunavut – January 31, 2019 – Qikiqtani Inuit Association (QIA) is proud to celebrate our third annual Inuktitut Language Month with a variety of events and initiatives.
"Language is vital to preserving our culture," says QIA president P.J. Akeeagok, "strengthening Inuktitut empowers our communities and reinforces our identity as Inuit."
QIA is celebrating Inuktitut Language Month with a number of family-friendly activities and events.
Nunavut author event – February 2, 1pm to 4pm, Frobisher Inn, Koojesse room
The event is hosted in partnership with Inhabit Media and features a book signing with authors of Inuktitut books.
QIA Book showcase – February 1 – 28
Each day in February QIA will introduce a different Inuktitut book published by Inhabit Media with the help of QIA funds on our social media sites (Facebook, Twitter, Instagram). In addition, we will also share free digital download links for each book.
Inuktitut song/poem contest – runs from Feb. 1 to 22 – winner announced Feb. 28
Participants are asked to share an original short song or poem (50 words or less) with QIA on social media (Facebook, Twitter, Instagram) using the hashtag #QIAinuk. First place winner receives $400, second place receives $300, and third place $200.
For more information, please contact:
Sima Sahar Zerehi,
Director of Communications,
Qikiqtani Inuit Association
867.975.8413
1.800.667.2742