QIA's 2022 Inuktitut Song and Poem Contest Winners
The Qikiqtani Inuit Association (QIA) is pleased to announce the winners of our 2022 Inuktitut song/poem contest. The contest was part of our Inuktitut Language month activities and solicited entries from all over the Qikiqtani Region.
We want to thank all the participants who submitted their song and poems for this year's contest. It brings us such joy to see our language incorporated into the art of music and poetry.
QIA understands the importance of our language and culture, and as a representative for this region we will do our part to consolidate our language and culture with the best practices as possible for now and future generations
Here are your 2022 song & poem winners.
$2500 First Place Winner, Saalia Pijamini
Saalia submitted her poem entitled "Paniga", while sitting at her dining room table.  As she watched her daughters playing across the room, this poem came to be – she said she wrote what her heart felt in that moment while she watched her daughters play together.
ᐸᓂᒐ
ᐸᓂᒐ ᐱᐅᔪᑯᓗᒃ
ᖁᖓᒐᐃᒻᒪ
ᓄᓇᕐᔪᐊᕋ ᖃᐅᒻᒪᓲᕐᒃ
ᐸᓂᒐ ᐱᒃᑲᑯᓗᒃ
ᓄᓇᕐᔪᐊᓕᒫᒥ
ᐊᓯᔾᔨᕐᒃᓯᓛᕐᒃᑐᕐᒃ
ᐸᓂᒐ ᓇᓪᓕᓇᕐᒃᑐᑯᓗ
ᐃᕿᒐᐃᒻᒫᖓ
ᐆᒻᒪᑎᒐ ᓴᐃᓕᓲᕐᒃ
Congratulations Saalia!
$1750 Second Place Winner, Judy Joanas
Joanas Lives in Clyde River, she submitted a poem called "Arragumi Silavut".  With all the blizzards in Clyde River this past winter, she was looking forward to warmer days, getting excited for all the berries that'll be growing because of all the snow this winter.  She was thankful for all the different seasons, knowing there are better days to look forward to.
Here is Judy's poem.
ᐊᕐᕌᒍᒥ ᓯᓚᕗᑦ
ᐅᐱᕐᖔᒃᑯᑦ ᓂᒃᐸᑲᑕᒃᐸᒃᐳᒍᑦ
ᓇᑦᑎᐊᕕᓂᑯᓗᖕᓂ ᓂᒃᓯᒃᓯᑲᑕᒃᑐᑕ;
ᐱᒋᐊᖅᑕᐅᕗᖅ, ᐊᓕᐊᓇᐃᑦ ᐱᔭᐅᖏᑦᑐᖅ
ᖃᐃᓂᐊᖅᑐᑯᓘᓕᖅᐳᖅ.
* ᖁᕕᐊᓇᖅ ᑕᒪᓐᓇ ᐊᖅᑯᓵᕐᒥᔭᕗᑦ
ᐊᓕᐊᓇᐃᑦ ᐊᔾᔨᒌᖏᑦᑐᑦ ᑕᑯᕙᒃᑕᕗᑦ
ᐱᐅᔪᐊᓗᐃᑦ ᐃᓗᓕᖏᑦ ᓄᓇᕐᔪᐊᑦᑕ
ᕿᒥᕐᕈᐊᖃᑦᑕᕐᓚᕗᑦ ᑐᓂᕐᕈᓯᐊᑯᓗᒃᐳᑦ.
ᐊᐅᔭᕐᒪᑦ  ᐅᖅᑰᑯᓗᖔᒃ,
ᑭᒃᑐᕆᐊᕌᓗᐃᑦ ᐸᕝᕕᓇᖅᐳᑦ;
ᓄᓇᕋᑯᓗᐃᑦ ᐊᔾᔨᒌᖏᑦᑐᐊᓗᐃᑦ ᐱᕈᓕᖅᐳᑦ,
ᐅᖅᓱᐊᖅᑐᑯᓘᕙᒃᑐᓂᓗ.
ᐅᑭᐊᒃᓴᕆᕗᖅ, ᐸᐅᕐᖓᑯᓗᐃᑦ
ᒥᑭᑦᑑᑎᐅᒐᓗᐊᑦ ᒪᒪᖅᓯᕗᑦ;
ᐅᓪᓛᑯᑦ ᐊᐱᐊᖅᓯᒪᕙᓕᖅᑐᓂ,
ᓯᒡᔭᖅᓱᓐᓂᑯᓗᖔᒃ.
ᐅᑭᐅᖅᑐᐊᓘᕗᖅ ᐱᖅᓯᐊᓗᒃ ᑕᐃᒪ,
ᖃᓗᕋᒐᒃᓵᓗᒃ ᐱᕈᖅᑐᐊᓘᒋᕗᖅ;
ᕿᒧᒡᔪᐊᓗᐃᑦ ᖃᓗᖅᑲᑯᐊᓗᐃᓪᓗ,
ᐅᓐᓃᑦ ᓯᕿᓂᐅᑉ ᐊᐅᓛᕐᒥᔭᑯᓗᐊ.
Congratulations Judy!
$750 Third Place Winner, Jocelyn Arreak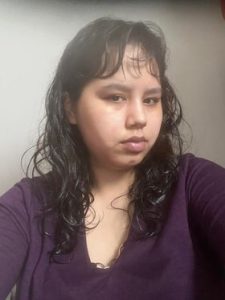 Jocelyn currently lives in Iqaluit and she submitted a song called "Saimanialirit".  She said she wrote this song while thinking of her sister Sula.
Here is Jocelyn's lyrics:
ᓴᐃᒪᓂᐊᓕᕆᑦ
ᑕᑯᔪᒪᕙᒌᑦ ᑕᑯᔪᒪᕙᒌᑦ.
ᐃᓱᒪᒋᑦᑕᐃᓕᔭᒋᑦ  ᐆᒻᒪᑎᒃᑯᑦ ᓱᓕ ᐃᒃᐱᒋᔭᒋᑦ.
ᐃᖅᑲᐅᒪᔭᒋᑦ ᐃᖅᑲᐅᒪᔪᖓ ᐱᖃᑎᒋᓪᓗᒋᑦ ᓱᓕ  ᐆᒪᓪᓗᑎᑦ.
ᐃᓄᑦᑎᐊᕙᐅᕘᑏᑦ ᐃᓄᑦᑎᐊᕙᐅᕗᑏᑦ.
ᓇᒡᓕᒋᕙᒋᑦ ᐃᖅᑲᐅᒪᔭᒋᑦ  ᐋᓐᓂᕐᓇᖅᑐᐊᓗᒃ  ᐆᒻᒪᑎᒃᑯᑦ
ᐃᖅᑲᐅᒪᕙᒋᑦ ᐊᒃᓱᐊᓗᒃ.  ᐃᖅᑲᐅᒪᕙᒋᑦ ᐊᒃᓱᐊᓗᒃ.
ᓴᐃᒪᐃᓐᓇᓕᕇᑦ  ᓴᐃᒪᐃᓐᓇᓕᕆᑦ.
ᑕᑯᔪᒪᕙᒋᑦ ᑕᑉᐹᓂ.  ᑕᐹᓂ ᐆᒪᔪᑏᑦ.
ᒎᑏ ᐊᑖᑖᒃ ᓴᐳᑎᓂᐊᖅᐸᐃᑦ ᐊᖓᔪᒑ
ᖁᔭᓐᓇᒦᒃ  ᖁᔭᓐᓇᒦᒃ.
ᐊᖓᔫᒃ  ᓴᐃᒪᓂᐊᓕᕇᑦ.
Congratulations Jocelyn!