QIA to participate in 5th annual Inuktitut Language Month
Iqaluit, Nunavut – January 29, 2020 – Qikiqtani Inuit Association (QIA) is proud to celebrate Inuktitut Language Month for the fifth year in a row with a variety of events and initiatives.
"Speaking Inuktitut allows Inuit to better connect to our culture and heritage – it provides a window into our history, traditions, and ways of thinking," says QIA President P.J. Akeeagok. "QIA is proud to celebrate our language and encourage young people to practice and learn by expressing themselves in our mother-tongue."
Inuktitut Language Month activities include:
QIA Book showcase – February 1 – 28, 2021
Each day in February QIA will introduce a different Inuktitut book published by Inhabit Media with the help of QIA funds on our social media sites (Facebook, Twitter, Instagram). In addition, we will also share free digital download links for each book.
 Inuktitut song/poem contest – runs from February 1 to 19, 2021 – winner announced February 26.
Participants are asked to share an original short song or poem (50 words or less) with QIA on social media (Facebook, Twitter, Instagram) using the hashtag #QIAinuk21. The winner receives $2,500, second place receives $1,750, and third place $750.
Virtual storytelling – February 12, 19 and 26, 2021
Livestreamed story time with Inhabit media and Inhabit Education Books. Authors include Nancy Mike, Maika Harper, Sarabeth Holden, Kevin and Mary Qamaniq-Mason, Deborah Kigjugalik Webster, Jennifer Wilman, Jordan Kyak, Jeela Palluq-Cloutier, and more!
Stories will stream on TakuTV from 4:00 – 4:30 on February 12, 19 and 26. Listen in and get a chance to win a book.
Nunavut Children's Film Festival – February 22 – 28, 2021
One hour of Inuit language programming for children developed by Nunavut Bilingual Education Society, in partnership with Culture and Heritage Nunavut and QIA. It will feature short animations from Nunavut content creators. Streaming will be available on TakuTV February 22 – 28, 2021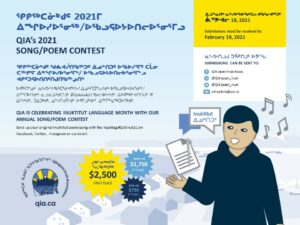 For more information, please contact:
Will Hopkins,
Acting Director of Communications,
Qikiqtani Inuit Association
whopkins@qia.ca
867.975.8413 or
1.800.667.2742