QIA shares a new approach to economic development in Nunavut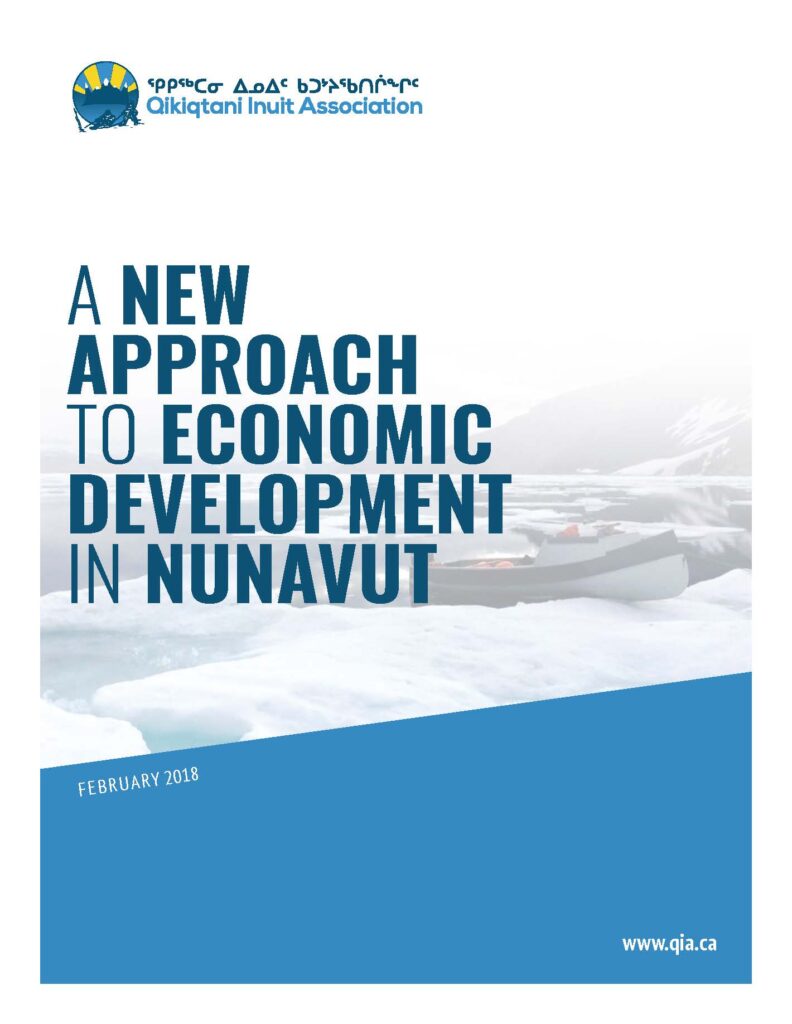 Iqaluit, Nunavut – February 28, 2018 – The Qikiqtani Inuit Association (QIA) is encouraged by the Government of Canada's emphasis on reconciliation and the conversation about working on renewed crown-Inuit relations. However, Inuit in Nunavut's Qikiqtani region want to see concrete measures when it comes to social and economic development in the territory.
This approach to partnership in Nunavut, guided by the principles of reconciliation, is outlined in QIA's written submission to the Government of Canada, titled, "A New Approach to Economic Development in Nunavut." This document, tabled at today's QIA board of directors meeting by President PJ Akeeagok, was shared with the Government of Canada January 31, 2018. It is now available to the public in both Inuktitut and English.
Currently, QIA is working in partnership with Parks Canada to establish the Tallurutiup Imanga National Marine Conservation Area (NMCA). Once an Inuit Impact and Benefit Agreement and Interim Management Plan is approved, this marine area, which is twice the size of Nova Scotia, will be Canada's largest marine protected area. The area will, upon signing of the agreements, account for 1.9 per cent towards the Government of Canada's international Aichi Target of protecting its total ocean territory of 10 per cent by 2020.
As the Designated Inuit Organization representing the five High Arctic communities that border these waters, QIA expects to have a seat at the table when new decisions are made on allocation of conservation related funds. QIA has engaged with Parks Canada via a Whole of Government approach in a negotiation process. In August 2017, in a letter to QIA, Prime Minister Trudeau affirmed that a "whole government approach" would be taken in the establishment of Tallurutiup Imanga NMCA, meaning that agreements with Inuit would not be isolated to a single government department, but would include participation from all relevant government departments.
"We're proud of the work our communities have done to fight for the protection of Tallurutiup Imanga," says QIA President, P.J. Akeeagok, "for us these waters are the key to a better future for Inuit in the High Arctic; a future that speaks to good jobs, essential infrastructure and social, cultural and economic prosperity for Qikiqtani Inuit."
QIA looks forward to continuing the dialogue with our partners in the federal government on how we can best protect our land and waters while building new paths for growth and prosperity in the Arctic.
About the Qikiqtani Inuit Association
The Qikiqtani Inuit Association (QIA) is a not-for-profit society which represents approximately 14,000 Inuit in the Qikiqtani (Baffin) Region of Nunavut, including 13 communities from Grise Fiord in the High Arctic to Sanikiluaq (Belcher Islands) in the southeast of Hudson Bay. QIA's mission is to safeguard, administer and advance the rights and benefits of the Qikiqtani Inuit; and to promote Inuktitut and Inuit traditions, environmental values, self-sufficiency, and economic, social and cultural well-being in an open and democratic forum. Under Article 39 of the Nunavut Agreement, QIA is considered a Designated Inuit Organization (DIO) responsible for managing Inuit Owned Lands in the Qikiqtani Region.
For more information, please contact:
Sima Sahar Zerehi,
Director of Communications,
Qikiqtani Inuit Association
szerehi@qia.ca
(867) 975.8413
1.800.667.2742