QIA Internship-Digital Skills for Inuit Youth
In partnership with Pinnqauq Association* and with funding from the Government of Canada, Qikiqtani Inuit Association (QIA) is providing Inuit youth an opportunity to develop digital skills while working at QIA to learn more about the organization.
The purpose of the Internship position was to provide Inuit youth in the Qikiqtani Region an opportunity to participate in paid on-the-job training, orientation to a Designated Inuit Organization and to gain valuable digital and technological skills through participation in coursework, workshops and by completing assigned projects. The Interns participated as QIA Qikiqtani Skills & Training for Employment Partnership (Q-STEP) trainees working closely and job shadowing the Community Liaison Officer (CLO) within QIA regional offices to gain operational knowledge and familiarity with a broad range of QIA programs, while increasing knowledge and competency with digital skills.
Coursework includes: Digital Literacy and Online Safety, Introduction to Microsoft Office, PowerPoint, Excel and Word, Using Google and Excel Spreadsheets,  Introduction to Google Docs, Creating Impactful Virtual Presentations, Creating Instructional Videos, Introduction to Podcasts, Introduction to Graphic Design, Mobile Photography and more.
"I have learned many great and worthwhile things during this internship. I have worked along side the CLO, QIA Translators, Project Managers and Human Resources to see the many roles at play in QIA. I rate this internship opportunity a 10 out of 10" said David Junior Watsko, from Grise Fiord, who has participated in the program since it launched in October of 2021. Participants graduated from the program on March 31, 2022.
Participants of this program included:
David Junior Wasko, Grise Fiord
Jordan MacMunn, Iqaluit
Katelyn Netser, Iqaluit
Bernice Ivalu, Igloolik
Kathy Apak, Sanirajak
Saaki Nuna, Kinngait
Sappa Cookie, Sanikiluaq
Marina Nuqingaq, Qikiqtarjuaq
Troy Qamarniq & Karen Christensen, Arctic Bay
Hailey Ishulutak, Pangnirtung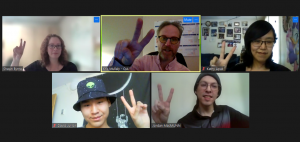 *Pinnguaq delivers the Digital Skills for Youth Program in partnership with Department of Innovation, Science and Economic Development Canada