QIA distributes $731,250 to Qikiqtani Inuit Families
Iqaluit, Nunavut – February 5, 2021 – The Qikiqtani Inuit Association (QIA) is distributing $731,250 to Qikiqtani Inuit families who received income support in December 2020.
"This initiative will support those Inuit families most in need" says QIA President P.J. Akeeagok, "we are doing our part to ensure that no Inuit are left behind as we continue to face the COVID-19 pandemic."
QIA is delivering this benefit in partnership with the Government of Nunavut's Department of Family Services – Income Assistance, the North West Company (the Northern Store), and Arctic Co-Operatives Limited.
This benefit is for families who received income support from the Government of Nunavut in December 2020. Eligible families will receive a one-time $423 grocery voucher for the Arctic Co-operative Limited or the Northern Store.
The grocery vouchers will be available starting February 2, 2021. Families can pick up their voucher from the store where they received their December 2020 income support.
This support is part of the third round of QIA's COVID-19 initiatives. The funds for QIA's COVID-19 response plan come from the phase three of the Indigenous Community Support Fund (ICSF) announced by the Federal Government. QIA's share of that fund is $2,008,101.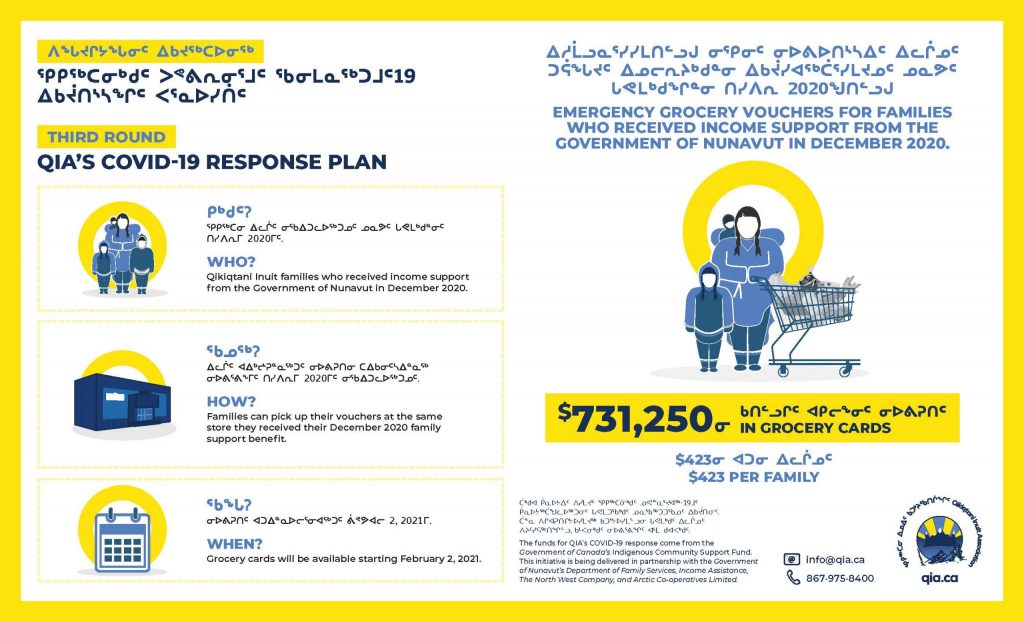 For more information, please contact:
Will Hopkins, Acting Director of Communications,
Qikiqtani Inuit Association
whopkins@qia.ca
867.975.8413 or
1.800.667.2742