QIA announces winners of song/poem contest
Iqaluit, Nunavut – March 1, 2018 – The Qikiqtani Inuit Association (QIA) is excited to announce the winners of our Inuktitut song/poem contest.
The contest, which was part of our Inuktitut Language month activities, solicited entries from all over Qikiqtani.
"I am proud to see this showcase of cultural and linguistic pride and talent from Inuit in our Qikiqtani communities," says QIA president P.J. Akeeagok, "these songs and poems are a testament to the connection of young people to Inuktitut."
The contest winners are:
First prize, $400 winner

Becky Han, originally from Arctic Bay
She is a musician who is establishing a huge online following with her videos and posts featuring Inuktitut songs
Becky was the 2016 winner of the Government of Nunavut's Qilaut children's song contest
In March 2017 she opened for Tanya Tagaq at the West End Cultural Centre in Winnipeg
Becky submitted a love song titled "Nagligigakkit" (Because I love you) via Facebook
Second prize, $300 winner

19-year-old Joshua Haulli from Igloolik
Joshua was the winner of the 2015 Alianait Battle of the Bands competition
His song "Kingummungaaq" (Remembering the past) is a touching testament to his love for his father
Third prize, $200 winner

19-years-old Quentin Sala from Sanikiluaq
Quentin is a Grade-12 student graduating in June.
He is the Inuit games coordinator/supervisor and a RCMP guard.
He submitted a poem titled "Inuusiq" (Life) that speaks to the resilience of Inuit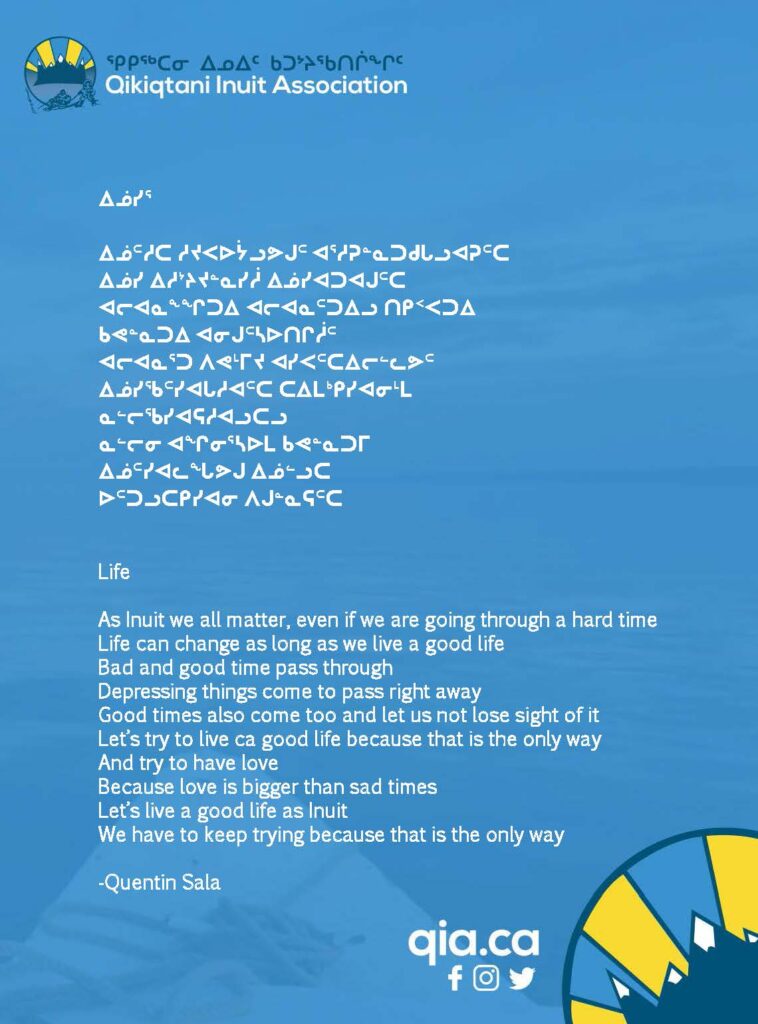 Copies of the winning submissions are available on the QIA website and social media accounts.
For more information, please contact:
Sima Sahar Zerehi
Director of Communications
Qikiqtani Inuit Association
szerehi@qia.ca
(867) 975.8413
1.800.667.2742