QIA announces winners of song/poem contest
Iqaluit, Nunavut – February 28, 2019 – The Qikiqtani Inuit Association (QIA) is excited to announce the winners of our 2019 Inuktitut song/poem contest. The contest, which was part of our Inuktitut Language month activities, solicited entries from all over Qikiqtani.
"It's fantastic to see the creativity and ingenuity of Inuit in our Qikiqtani communities," says QIA president P.J. Akeeagok, "these songs and poems are affirmations of the connection young Inuit have to our language, culture and history."
The contest winners are:
First Prize, $400 winner – Miali Coley-Sudlovenick from Iqaluit

Miali is a teacher at Joamie School

She shared her poem on a podcast she created to promote Inuktitut which she shared on Facebook

Her poem "Uvva Aijaijaaliuqtuq" (Making of an Aijaijaa) describes traveling by dogsled and taking-in the sights and sounds of the land – an experience that connects the poet to her ancestors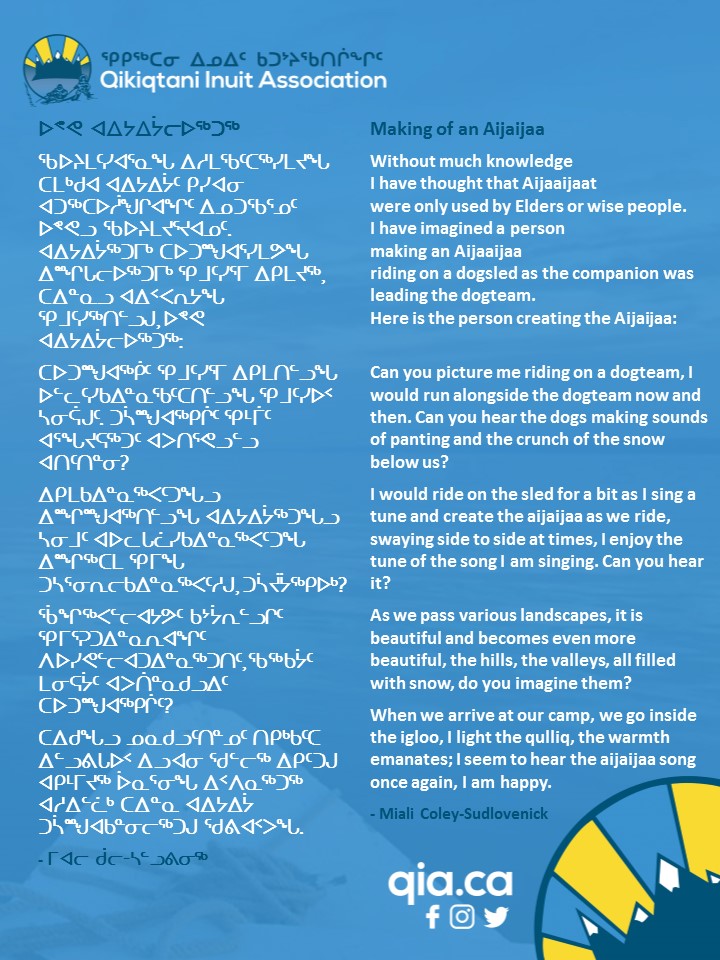 Second prize, $300 winner – Jesse Tuluraqjuk from Igloolik

He graduated from Ataguttaaluk High School and Nunavut Sivuniksavut in Ottawa

He is a substitute teacher at Ataguttaaluk High School

Jesse submitted a song via email titled "Majurainnari" (Keep Climbing) about following your dreams, being positive and achieving your goals
Third prize, $200 winner – Becky Han, originally from Arctic Bay

She is a musician who has established a huge online following with her videos and posts featuring Inuktitut songs

Becky was the winner of the 2018 QIA song and Poem contest and the 2016 winner of the Government of Nunavut's Qilaut children's song contest

Becky submitted a video of a love song titled "Kiligalaaksimajut" (Small Cuts) via Facebook
Copies of the winning submissions are available on the QIA website and social media accounts.
For more information, please contact:
Sima Sahar Zerehi, Director of Communications, Qikiqtani Inuit Association
szerehi@qia.cam
867.975.8413
1.800.667.2742