QIA announces Tallurutiup Imanga and Tuvaijuittuq community tour to discuss roll-out of the over $250 million investments in High Arctic
Iqaluit, Nunavut – October 10, 2019 – TheQikiqtani Inuit Association (QIA) is pleased to announce another community tour to the five hamlets impacted by the Tallurutiup Imanga Inuit Impact and Benefit Agreement (IIBA) and the Tuvaijuittuq Agreements.
The community meetings will take place in Arctic Bay, Clyde River, Grise Fiord, Pond Inlet and Resolute Bay. QIA staff will share information on the over $250 million of negotiated benefits for Inuit in the High Arctic.
"We are extremely proud of the investments we negotiated for Inuit in the High Arctic through the Tallurutiup Imanga and Tuvaijuittuq Agreements," says QIA President P.J. Akeeagok. "This community tour will give QIA a chance to share news about these achievements with Inuit in the impacted communities and discuss the next steps for how these investments will be realized."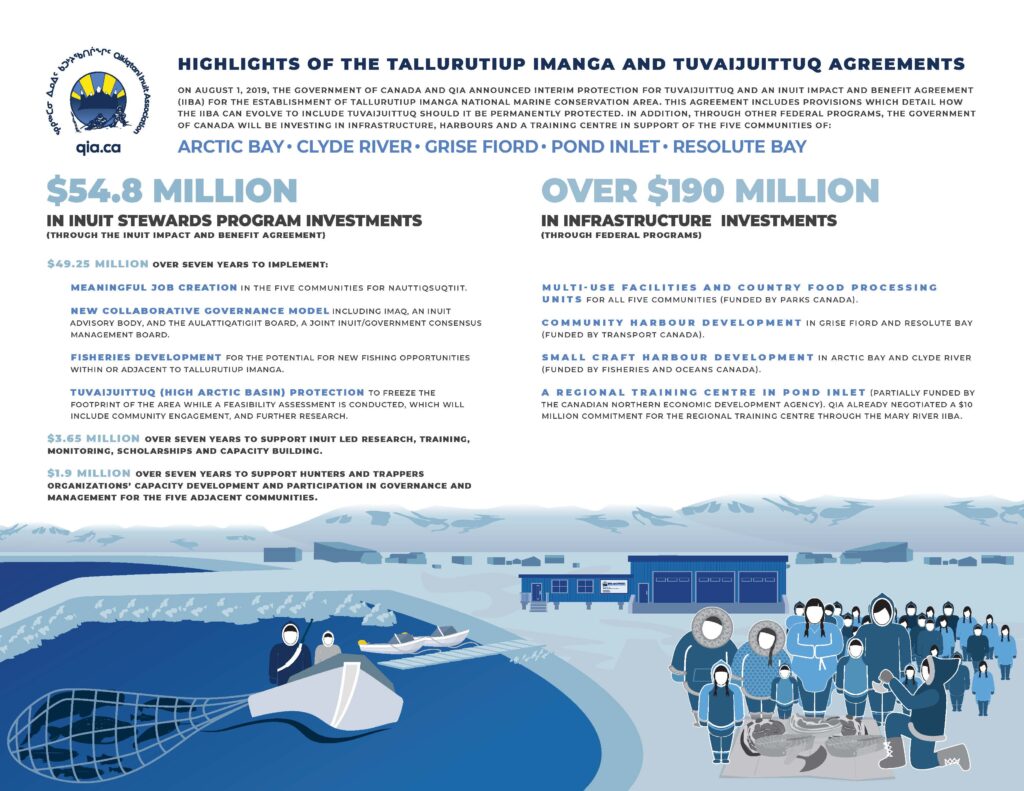 In August 2019, the Government of Canada and QIA signed the final IIBA for Tallurutiup Imanga National Marine Conservation Area (NMCA) and announced investments related to interim protection for the Tuvaijuittuq Marine Protected Area. These investments include infrastructure such as community harbours and small craft harbours, multi-use facilities including food processing plants, and meaningful job creation for Inuit in the five impacted communities as environmental stewards.
Together, Tallurutiup Imanga and Tuvaijuittuq cover more than 427,000 square kilometres, which is larger than Newfoundland and Labrador.
Schedule of community meetings (subject to weather and technical delays):
November 12, 2019         Clyde River
November 13, 2019 Pond Inlet
November 19, 2019 Arctic Bay
November 20, 2019 Resolute Bay
November 21, 2019 Grise Fiord
For more information, please contact:
Sima Sahar Zerehi,
Director of Communications,
Qikiqtani Inuit Association
867.975.8413 or
1.800.667.2742