QIA announces recipient of the 2020-2021 John Amagoalik scholarship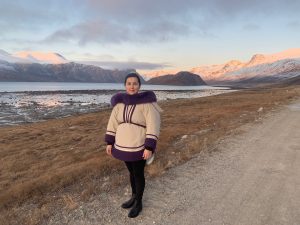 Iqaluit, Nunavut – October 19, 2020 – The Qikiqtani Inuit Association (QIA) is pleased to announce that Jenna Kilabuk is the 2020-2021 recipient of the John Amagoalik scholarship.
The $5,000 Scholarship honours the efforts of John Amagoalik towards the betterment of Inuit in Nunavut. QIA prioritizes applications from post-secondary students entering a field that promotes Inuit language and culture.
Originally from Pangnirtung, Kilabuk is in her second year of the four-year Nunavut Teacher Education Program at Nunavut Arctic College.  In her application she explained how she hopes to honour John Amagoalik's legacy of serving Inuit and fostering Inuit culture and language as a teacher.
"I am honoured to have been selected as a recipient of the John Amagoalik Scholarship," states Kilabuk, "I believe Johns journey and experiences has greatly contributed to the learning for individuals like me. I would like to thank QIA for making this opportunity available to Inuit students who are furthering their education for the betterment of Inuit. Qujannamiik!"
Criteria for the John Amagoalik Scholarship:
Students must be enrolled in a post-secondary academic institution, preferably in a field that promotes Inuit language and culture for the September and January semesters
A 500-word essay on how you feel your aspirations are influenced by John Amagoalik and the Nunavut Agreement
A recent resume
Copies of most recent transcripts
Two reference letters preferably from a teacher, professor or employer who has closely worked with you
Students must maintain a full course load and a passing grade point average to receive the scholarships
 For more information, please contact:
Sima Sahar Zerehi,
Director of Communications, Qikiqtani Inuit Association
szerehi@qia.ca
867.975.8413
1.800.667.2742