QIA announces $19 million Inuit training project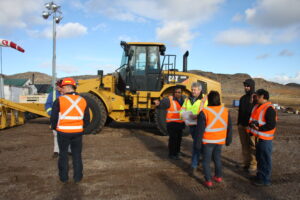 Iqaluit, Nunavut – November 14, 2017 – The Qikiqtani Inuit Association (QIA) in partnership with Baffinland Iron Mines Corp., the Government of Canada, the Government of Nunavut and Kakivak is launching a new Inuit employment and training project.
The Qikiqtani Skills and Training for Employment Partnership (Q-STEP), is designed to meet the employment needs of Inuit. This program will boost skills development across Qikiqtani, with a focus on training in the mining sector, for a four year period ending on March 2021.
The Government of Canada, through the Skills and Partnership Fund, will provide $7.9 million towards training 360 unemployed Inuit through Q-STEP. Baffinland will provide $9.4 million in-kind support to the project and Kakivak will provide up to $1.6 million in-kind support to the project. The Government of Nunavut will offer operations support to Q-STEP.
"Providing Inuit with the tools they need to gain access to better jobs and skills is a priority for our team," says QIA President, P.J. Akeeagok. "We want all Qikiqtani Inuit to have good meaningful work that challenges them, keeps them current in today's job market and offers stability for their families."
QIA has designed an Inuit Labour Pool database, Tuttarvik, which will act as a central resource to assist employers in identifying Inuit qualified for employment or training opportunities.
"Baffinland is one of the largest private employers in Nunavut and is committed to the continued employment and training of Inuit in the Qikiqtani region. The Q-STEP project will help Baffinland and our partners develop new employment and skills development opportunities, exclusively for Inuit at our Mary River Mine. These opportunities include apprenticeship and multi-skilled equipment operator programs," says Brian Penney, President and CEO of Baffinland Iron Mines.
"We look forward to working with our partners at the Qikiqtani Inuit Association, Kakivak Association, and the Government of Nunavut to develop and implement these new programs."
Baffinland expects to hire 25 Inuit right out of the Q-STEP Work Readiness training. They will also give hiring preference to Q-STEP participants.
Q-STEP objectives:
Increase Inuit employment at the Mary River Mine
Develop and deliver training programs for unemployed Inuit, with a focus on women and youth.
Provide Inuit with certified and transferrable skills and qualifications to enable them to take advantage of other employment opportunities.
Create an Inuit Labour Pool Database (Tuttarvik) that can help employers to identify qualified Inuit candidates.
Highlight of training offered via Q-STEP
Work Readiness training
Heavy Equipment training
Trades Apprenticeships training
Mining Essentials and general skills development
For more information, please contact:
Sima Sahar Zerehi,
Director of Communications,
Qikiqtani Inuit Association
Email: szerehi@qia.ca
Ph: (867) 975.8413
Ph: 1.800.667.2742