PSA: QIA/Baffinland Celebrate Q-STEP graduates with feast and hold the Mary River Annual Project Review Forum in Sanirajak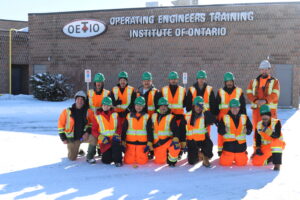 PUBLIC SERVICE ANNOUNCEMENT
DATE ISSUED: April 3, 2018
Re.: QIA/Baffinland Celebrate Q-STEP graduates with feast and hold the Mary River Annual Project Review Forum in Sanirajak
DATE OF EVENT: April 17 & 18, 2018
LOCATION: Community Hall, Sanirajak
 The Qikiqtani Inuit Association (QIA) and Baffinland Iron Mines will be hosting the Mary River mine's Annual Project Review Forum in Sanirajak on April 17 and 18 at the community hall.
The Project Review will be an opportunity to discuss the effects of the Mary River Mine on the impacted communities. The Qikiqtani Community Directors and selected Elders and youths from Arctic Bay, Clyde River, Sanirajak, Igloolik, and Pond Inlet will be delegates at the meeting.
 This year's forum will also include a community feast and information Session for the Qikiqtani Skills and Training for Employment Partnership (Q-STEP) and QIA's Inuit Labour Pool Database – Tuttarvik.
The event will be an opportunity to recognize QSTEP participants from Sanirajak, celebrate the partnerships that make the program possible, and introduce the program to more Inuit.
The Qikiqtani Skills and Training for Employment Partnership (Q-STEP), is designed to meet the employment needs of Inuit. This program boosts skills development across Qikiqtani, with a focus on training in the mining sector, for a four-year period ending on March 2021.
This QIA led project is possible through the Government of Canada's Skills and Partnership Fund with assistance from Baffinland Iron Mines, Kakivak Association and the Government of Nunavut.
In conjunction with Q-STEP, QIA has also launched an Inuit Labour Pool Database called Tuttarvik. The database is used to promote training opportunities to Inuit and to assist employers identify qualified Inuit candidates for employment and training opportunities.
The community delegates include:
 Arctic Bay
Levi Barnabas                    QIA Community Director/Chair IIBA
Tommy Tatatuapik          Elder Representative
Robyn Qaunaq                  Youth Representative
Clyde River
Inutiq Iqaqrialu                 QIA Community Director
Ootovah Audlakiak          Elder Representative
Patrick Palituq                   Youth Representative
Sanirajak
Abraham Qammaniq      QIA Community Director
Ammie Ham Kipsigak      Elder Representative
Elizabeth Arnadjuak        Youth Representative
 Igloolik
Johnny Malaiya Kublu    QIA Community Director
Natalino Piugattuk           Elder Representative
Corianna Manitok            Youth Representative
Pond Inlet
David Curley                       QIA Community Director
Sam Omik Sr.                     Elder Representative
Elizabeth Quasa                Youth Representative
For more information, please contact:
Sima Sahar Zerehi
Director of Communications
Qikiqtani Inuit Association
›szerehi@qia.ca
Ph:(867) 975.8413
Toll free: 1.800.667.2742