President's message to the QIA Board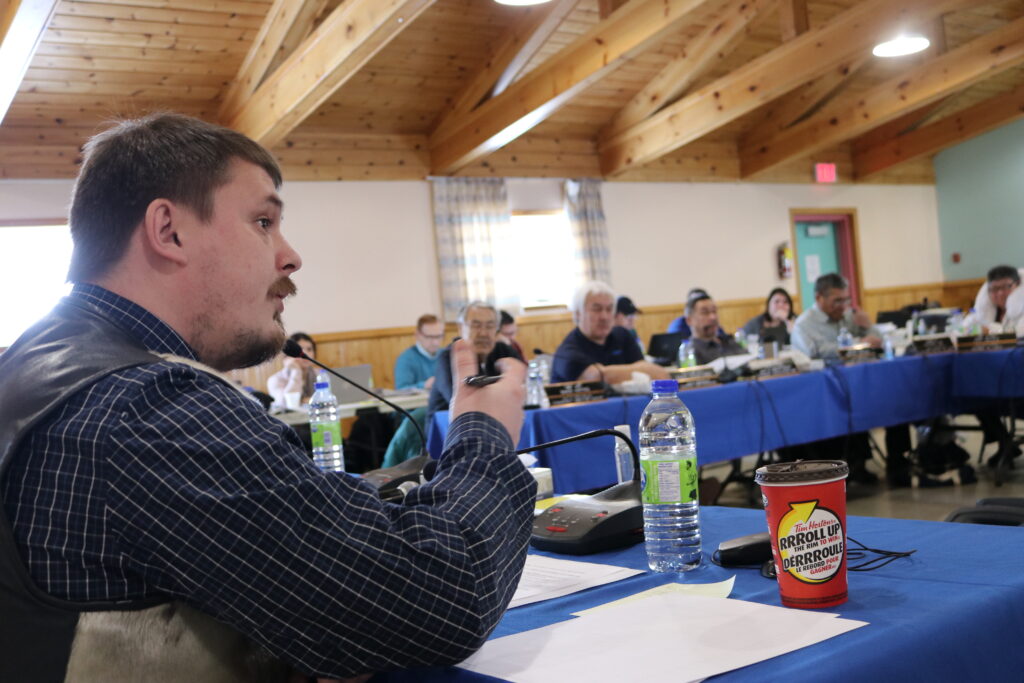 Today is a special day – because it is our first board meeting of 2018.
As you know this is the last year of my term as the QIA president – I have been honoured to work with you all in the past three years to serve Inuit in the Qikiqtani region.
2018 promises to be an exciting year for our team at QIA.
We started this year in a flurry of activity with a tour to gain feedback from five High Arctic communities about the Inuit Impact and Benefits Agreement associated with the creation of Tallurutiup Imanga National Marine Conservation Area.
Our Major Projects team was also on the road in January visiting Pond Inlet, Igloolik, Clyde River and Pangnirtung to deliver our second year of financial literary workshops.
We also had a strong QIA contingent at Northern Lights and the Arctic Inspiration Prize in Ottawa this year.
These gatherings provided opportunities to engage with other Inuit organizations and groups and make connections for future joint projects and collaborations.
Although the year has just started, I already know that twelve months seems a short time to accomplish all the projects, programs and initiatives we have planned for 2018.
QCAP
Our new cultural programs made possible by our Benefits Fund and created through our 2017 program review are getting off the ground. We are releasing a call for proposals next week for QCAP – Qikiqtani Cultural Activities Program. I am eager to see what innovative hunting and sewing project proposals will come our way from Qikiqtani communities.
This year is sure to be a year filled with major landmarks at QIA.
Nunavut Heritage Centre
Since pledging our $5 million support towards a Nunavut Heritage Centre, we have seen the momentum grow to bring our Inuit artifacts home. We are now working with our project partners to make this dream a reality on Inuit Owned Land.
Elder care facility proposal
QIA and QC signed a lease in November 2017 to develop the first privately led land development in the City of Iqaluit. The IOL is located along the federal road.
In addition to being the home of the Nunavut Heritage Centre, this project opens many doors for new development in Iqaluit.
I have worked closely with QC to develop two proposals one located on IOL in Iqaluit and the other in another Qikiqtani community.
These proposals have been submitted to the Government of Nunavut.
The first is a proposal for an Elder care facility for the territory to be located on Inuit Owned Lands in Iqaluit.
The second is a Regional Elder and Daycare Facilities to be located in a smaller community within the Qikiqtani region.
Today, Inuit Elders in need of palliative care are sent to the south for care and treatment.
We all know the stories of the linguistic and cultural challenges associated with those experiences.
It is important that our Elders have access to services in their language by people who know their worldview.
I believe this is a great opportunity for us to make such an essential need a reality.
Q-STEP
We are proud of the work we are also doing to secure Inuit jobs in mining. Our $19 million training program Q-STEP, the Qikiqtani Skills and Training for Employment Partnership is up and running with Inuit getting trained for various jobs in mining.
Tallurutiup Imanga
Doubtlessly, one of our biggest projects this year will be negotiating the IIBA for the Tallurutiup Imanga National Marine Conservation Area by March 2019.
Once this agreement is signed Inuit in Pond Inlet, Clyde River, Arctic Bay, Resolute Bay and Grise Fiord will be living on the coastline of Canada's largest marine conservation area, an area twice the size of Nova Scotia.
With this agreement, we hope to secure more opportunities, jobs and infrastructure for Inuit in the High Arctic.
Some measures that we have worked to put in place as part of this IIBA include:
small craft harbors in each of the Tallurutiup Imanga communities.
Permanent training programs to ensure that Inuit are employed as a results of the NMCA creation.
Governance lead by Inuit to ensure that we are at the forefront of decisions critical to the objectives of conservation.
Whole Government Approach
QIA has demanded involvement from multiple federal government departments, besides Parks Canada.
QIA received a letter from the Prime Minister's office in August 2017 with a commitment for a Whole of Government approach.
QIA submission on the Arctic Policy Framework
While the Tallurutiup Imanga IIBA is one of our biggest projects, we are also exploring other avenues for fostering better communication and working relationships with Prime Minister Trudeau's government.
In December 2016 the Prime Minister committed to co-develop a new Arctic Policy Framework that will replace Canada's Northern Strategy and Statement of Canada's Arctic Foreign Policy.
The Arctic Policy Framework will provide overarching direction to the Government of Canada's priorities, activities and investments in the Arctic until 2030.
I attended a roundtable session in Ottawa in January 2018 co-hosted by Minister Carolynn Bennett and Senator Dennis Patterson to discuss this new Arctic framework.
We followed our participation with a written submission that we presented to the federal government on January 31, 2018.
It is titled: A new approach to economic development in Nunavut.
Some of the key points that we made in the report include:
the need for the Government of Canada to work with Inuit in terms of providing local solutions to face and address challenges in the North,
Long-term effort to develop and maintain critical infrastructure to support our cultural and the wellbeing of our communities
An urgent need to invest in long-term stable multi-year funding to increase the institutional capacity to deliver economic development programs in Nunavut
The need of the federal government to work with QIA to renew the relationship with Qikiqtani Inuit achieving reconciliation by engaging with us on the QTC file.
We called for the need to have the Prime Minister formally apologize for the historic wrongs as a step towards achieving Saimaqatigiingniq.
We called for the investment in education, training systems to develop a skilled workforce amongst Inuit.
This report has been well received to date, we look forward to seeing the Federal Government take concrete steps in response to these priority areas in the near future.
2018-19 Budget
Now to our 2018-19 budget – this budget is a reflection of our hard work and growth.
I am proud that our annual budget has grown from $18 Million to $25 million this past year.
This money will translate into more resources, activities and initiatives to serve Inuit in our region. As well as more staff and office space for QIA.
This growth in our organization is attributed to a number of key projects.
the $19 Million Inuit employment and training program – QSTEP that I mentioned earlier will continue in the next four years. This is with thanks to funding from Skills and Partnership Funding (SPF) program in partnership with Baffinland, Government of Nunavut, Kakivak Association and the Government of Canada.
The $1 million contribution agreement we have signed with Parks Canada to negotiate the Tallurutiup Imanga Inuit Impact Benefit Agreement (IIBA)
QIA's Benefits Fund of $1.9 million as a result of the QIA Revenue Policy and Legacy Fund
We are expecting to continue operating at this level for the next two to four years. After that, the projects will be complete, and our budget should go back to $18M annually unless we seek further funding for more projects at that time.
I would also like to congratulate our subsidiary company QC for their successful 2017/18 year. As a result we were able to announce the $1.8 million dividend to QIA.
Meaning, in the last two years, QC has contributed a total of $2.8 million for QIA's revenue policy legacy fund that goes towards our Benefits Fund programs.
I look forward to the next few months of activities at QIA and continuing to work with all of you on these important projects.
Thank you for your time, I am available for any questions or comments.