Nunatsiaq News: Nunavut Inuit corporations hand out dividends, donations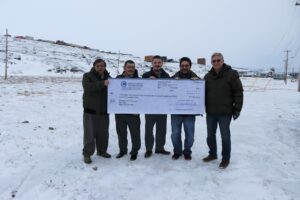 It's not even Christmas yet, but money is flowing out of Nunavut's development corporations this month to Inuit beneficiary organizations and trusts.
The Qikiqtani Inuit Association announced Tuesday that it had received a $1.8 million dividend from its subsidiary organization, Qikiqtaaluk Corp., which manages economic development on behalf of QIA.
The announcement came just days after the two Baffin region organizations announced they would team up on a big, multi-million-dollar Iqaluit development plan.
"These dividends, which represent the economic achievement of Inuit, go a long way in helping fund important programs for Qikiqtani Inuit in all our 13 communities," said QIA President P.J. Akeeagok in a news release.
…