MEDIA RELEASE: Iqaluit grad receives first Qikiqtani Inuit Association Inuktut Language Award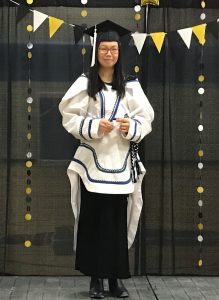 Iqaluit, Nunavut – June 24, 2020 – The Qikiqtani Inuit Association (QIA) awarded its first Inuktut Language Award to high school graduate Katie Kalluk, during the graduation ceremony at Inukshuk High School in Iqaluit on June 23.
The $1,000 award, created to celebrate students who demonstrate dedication to the preservation and practice of Inuktut throughout their high school careers, is a partnership between QIA and Inukshuk High School. This is the first time the award has been presented.
"Inuktut is key to preserving our culture and identity as Inuit," says QIA president P.J. Akeeagok, "it brings me so much joy and pride to recognize students who are honouring our language and culture."
"I started speaking Inuktut pretty early, when I was in early elementary school," says award recipient Kalluk, "I plan to develop my Inuktut skills further in the future."
Kalluk, originally from Resolute Bay, will attend the Nunavut Sivuniksavut program as of fall 2021 to continue her studies.
For more information, please contact:
Sima Sahar Zerehi,
Director of Communications,
Qikiqtani Inuit Association
867.975.8413 or
1.800.667.2742