Hot off-the-press, QIA's 2021 Winter Newsletter, Tusarassat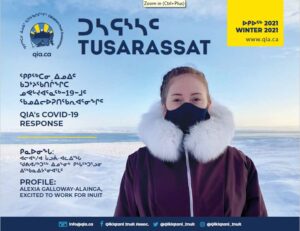 QIA's 2021 Winter newsletter Tusarassat, is now available in print and on our website.
As always, our newsletter is full of photos and information about all our work across the Qikiqtani Region.
This issue includes information on the second and third round of our COVID-19 initiatives, our new Qikiqtani Qimuksiqtiit Project, as well as a profile on Alexia Galloway-Alainga, QIA's new Policy Analyst.
Check out the issue to learn more about what we have been up to over the past few months.