Helping Qikiqtani Inuit speak up about oil and gas development in Baffin Bay and Davis Strait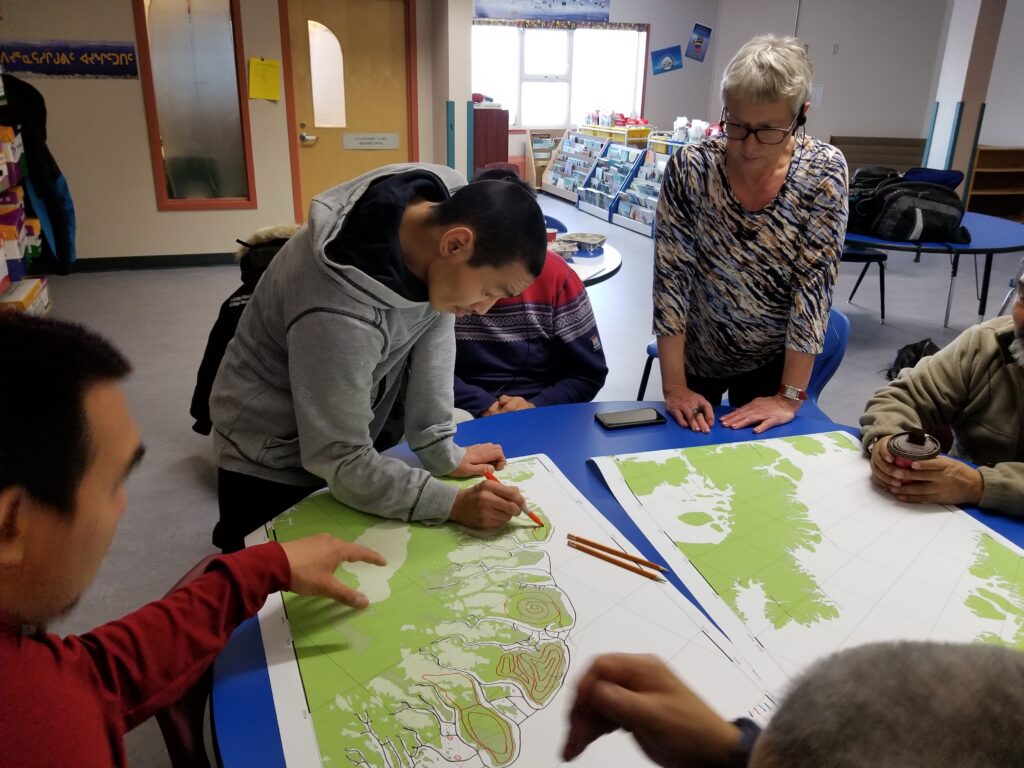 Since 2017, QIA has been assisting with Nunavut Impact Review Board's (NIRB) study on oil and gas development in Baffin Bay and Davis Strait.
This NIRB led Strategic Environmental Assessment study is funded by the Government of Canada. QIA has been a part of the working group for this study. The Federal Government will compile the information gathered throughout this study into a report about oil and gas development in Baffin Bay and Davis Strait.
In the past year, QIA has been conducting community tours in Qikiqtani to get feedback from Inuit on how potential future oil and gas development could affect their surroundings.
To date, QIA has met with all 10 communities adjacent to Baffin Bay and Davis strait including: Arctic Bay, Kinngait, Clyde River, Grise Fiord, Iqaluit, Kimmirut, Pangnirtung, Pond Inlet, Qikiqtarjuaq, and Resolute Bay.
In each community, QIA staff met with the hunters and trappers organizations, the QIA Community Lands and Resources Committees (CLARC), schools and the public.
What is QIA's role in this work?
QIA has an important role in this work. Our primary focus has been on working with Inuit to collect traditional knowledge, which will be used to make the final recommendations of the SEA.
The information we gather in these community meetings will be compiled into a QIA report. Our report will be part of the NIRB report to the Government of Canada.
As part of this work, QIA worked with Inuit Qaujimajatuqangit (IQ) or Inuit traditional knowledge advisors, that were chosen from the CLARC, HTO, public and youth in the following five communities: Arctic Bay, Clyde River, Pangnirtung, Pond Inlet and Qikiqtarjuaq.
The last IQ committee meeting took place in March 2018.
What did Inuit tell us?
Qikiqtani Inuit told us that they were concerned about the potential impacts of activities associated with oil and gas exploration
Inuit expressed that one of their main concerns is seismic testing and how it can harm the environment and wildlife and hence their traditional way of life
Another significant concern raised by Inuit is the possibility of an oil spill in waters adjacent to their communities and its impact on the health and safety of the water, wildlife and people
Food security survey
As part of this study, QIA is also looking at the role of country food in our communities. Our hope is to gather information on the value of country food to the local communities.
We are gathering information on:
How much country food costs in each community
How much work it takes to harvest and prepare country food
To get a more accurate account of how country food is shared and distributed in order to highlight its importance
QIA conducted a public survey as well as a targeted survey with harvesters to gather some of this information.
Another part of our traditional knowledge study led to us creating seasonal IQ calendars, which chronicle animal migration patterns and traditional harvesting times in specific communities.
Each of the five communities with IQ advisors developed their own calendar.
What happens next?
QIA is now drafting the IQ report.
In addition, we are holding a workshop in April in Iqaluit with some of the IQ advisors to do further study on the traditional knowledge gathered. We will also use this gathering to discuss how IQ will influence possible scenarios related to oil and gas activity in Baffin Bay and Davis Strait.
These discussions will include conversations on how seismic testing, increased shipping or the presence of oilrigs can affect local wildlife and Inuit ability to harvest.
The group will also draft recommendations on best practices to minimize harm associated with oil and gas development on wildlife and traditional Inuit practices.
NIRB is going back to all of the 10 communities in the fall to continue the study.