Have you applied for NTI's Nunavut Harvester Support Program?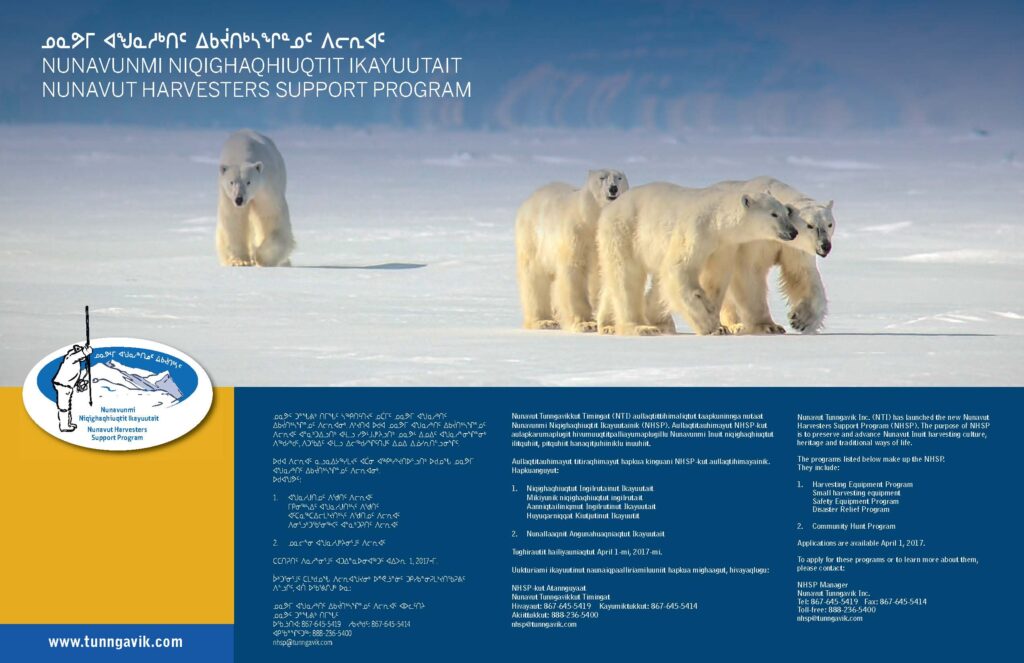 Nunavut Tunngavik Inc.'s (NTI) Nunavut Harvesters Support Program (NHSP) is designed help Inuit hunters.
The program helps preserve and advance Inuit harvesting culture, heritage and traditional ways by providing financial assistance for hunting. It also helps relieve poverty among Inuit in Nunavut.
The Nunavut Harvesters Support Program includes:
Harvesting Equipment Program
The Harvesting Equipment Program provides Inuit in Nunavut in need with funding assistance to make harvesting equipment and tools more affordable, so that they can participate in traditional harvesting activities.
An applicant is considered in need if they require financial assistance to purchase harvesting equipment in order to support their family and/or community. Applicants can also be considered in need if they have suffered equipment loss due to an unavoidable natural disaster.
Funding will be provided in three areas:
Small harvesting equipment
Safety Equipment Program
Disaster Relief Program
Application form for the Harvesting Equipment Program:
Community Hunt Program
The Community Hunt Program provides funding and assistance to organizations or groups interested in participating in community hunts. Eligible organizations include incorporated entities such as Hamlets, HTOs, RWOs and not-for-profit organizations. Unincorporated and informal groups of hunters are also eligible. Businesses will not be eligible to receive funding under this program. Funding amounts are based on community size, nature of the proposed hunt, and number of harvesters involved.
Application form for the Community Hunt Program:
To apply for these programs or to learn more about them, please contact:
NHSP Manager
Nunavut Tunngavik Inc.
Tel: 867-645-5419 Fax: 867-645-5414
Toll-free: 888-236-5400
NUNAVUT HARVESTERS SUPPORT PROGRAM
P.O. BOX 280
RANKIN INLET, NU X0C 0G0