Congratulations Q-STEP Graduates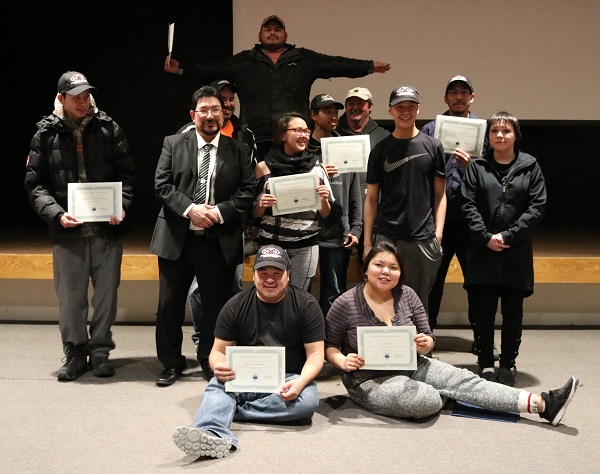 We are very proud of the latest group of Heavy Equipment Operators who graduated from their training at the Operating Engineering Training Institute in Morrisburg, Ontario, on December 10, 2018.
This training is under the Qikiqtani Skills & Training for Employment Partnership (Q-STEP) initiative that boosts skills development in the Qikiqtani, with a focus on training in the mining sector. The Q-STEP program is run by the Qikiqtani Inuit Association (QIA), in partnership with Baffinland Iron Mines Corp., the Government of Canada, the Government of Nunavut and the Kakivak Association for a four-year period ending on March 2021.
Eight Qikiqtani Inuit graduated from the Heavy Equipment Operators training on December 10, 2018. Since the Q-STEP program started in November 2017, we have certified 54 Heavy Equipment Operators. Other Q-STEP graduates include 53 Work Ready Participants. Eight apprentices are currently completing on-the-job training with Baffinland. The apprentices learn about their respective trades from carpenters, electricians, plumbers, welders, and others on the job. The goal is to hire 25 new apprentices in the future.
To take advantage of training with Q-STEP sign up with QIA's Inuit Labour Pool database, Tuttarvik. Tuttarvik will automatically create a resume for those registered and link them to new and upcoming job opportunities across the Qikiqtani region. Those registered with the database will also be eligible to participate in training and education opportunities, including skills training, apprenticeships and university programs. We have over 550 Qikiqtani Inuit enrolled in Tuttarvik, with a goal of 1,500 by 2021.

In 2018, QIA renegotiated the Mary River Inuit Impact Benefits Agreement. Under the amended agreement, Baffinland is now hiring and transporting Inuit employees from all 13 Qikiqtani communities.