PUBLIC SERVICE ANNOUNCEMENTS: Call for Applications: The Qikiqtani Inuit Association will provide 40 additional laptops to eligible Qikiqtani Inuit students with support from Actua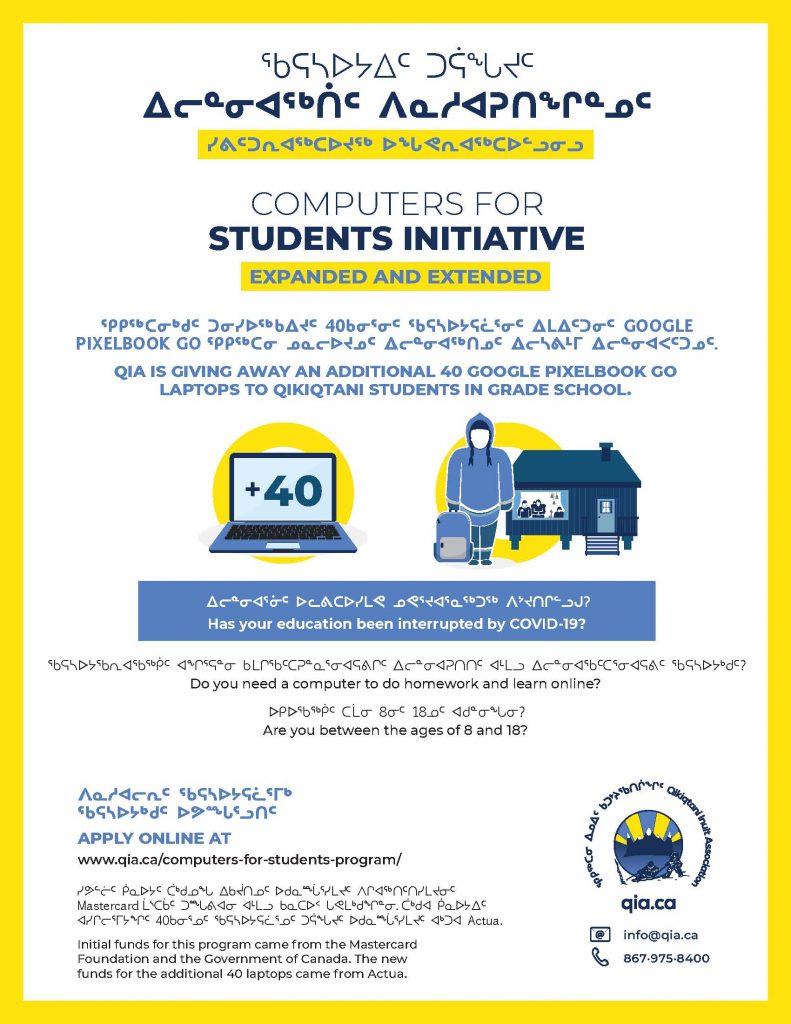 DATE ISSUED: July 15, 2020
EVENT: Deadline Extended; the Qikiqtani Inuit Association is extending and expanding the laptops-for-students initiative
The Qikiqtani Inuit Association will provide an additional 40 laptops to help eligible students whose education has been disrupted by COVID-19. This expansion is thanks  to a contribution from Actua, Canada's largest science, technology, engineering and math (STEM) outreach organization.
Specifically, QIA has received funding for an additional 40 Google Pixelbook Go 13.3 inch laptops from Actua. Actua is a national charity that helps students build foundational skills in science, technology, engineering and math through workshops and summer camps. Actua has been working across Nunavut delivering STEM camps and workshops for over twenty years. This year, due to COVID, they were unable to deliver in person so they are contributing in other ways – like providing more laptops to Inuit students.
Applying for the computers for students initiative is easy. The application is online at https://www.qia.ca/computers-for-students-program/ and takes about 10-15 minutes to complete. If you are selected, the computer will be shipped to your home and be yours to keep.
Any Inuk student between the ages of 8 and 18 who has lived for at least one year in one of the 13 Qikiqtani communities is eligible.
The initial funds for this program came from the Mastercard Foundation and the Federal Government.
The deadline for applications is July 24, 2020 at 5:00 PM EDT.
For more information, please contact:
Sima Sahar Zerehi,
Director of Communications,
Qikiqtani Inuit Association
szerehi@qia.ca
867.975.8413
1.800.667.2742
Kristina Martin
Director of Communications,
Actua