BLOG: Qikiqtani Inuit Assocation extends a congratulation to this year's recipient of the Order of Nunavut, Peter Tapatai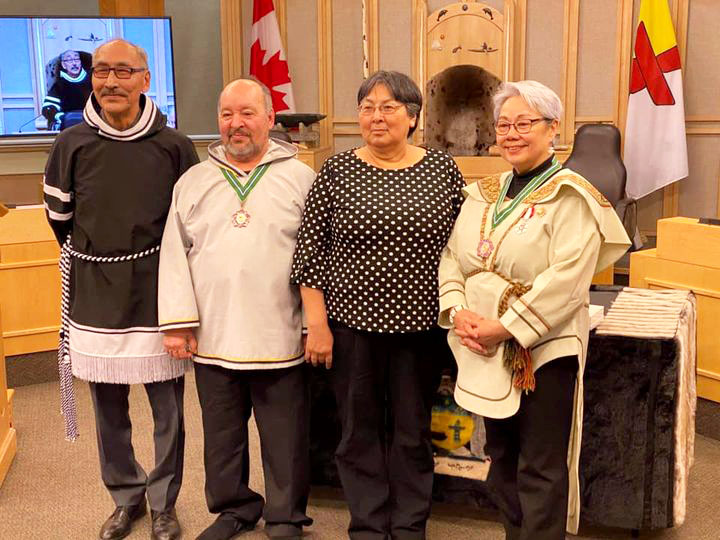 Peter Tapatai, born in Chesterfield Inlet, has a long and varied career that has increased opportunities for other Inuit in Nunavut. He was recognized for his contributions to the territory when the Government of Nunavut awarded him with the Order of Nunavut.
The Order recognizes individuals who have made outstanding contributions to the cultural, social or economic wellbeing of Nunavut.
Tapatai spoke at the ceremony about how to had to create opportunities for himself to benefit from the Meadowbank Agnico Eagle gold mine near Baker Lake, where he lives.
He reminded everyone who listened to him that Inuit have to support and mentor young people, who are the future of Nunavut.
P.J. Akeeagok, the president of QIA, personally congratulated Tapatai.
"Peter is a leader who deserves this recognition. His visionary actions pave the way for other Inuit to bring their ideas to life."
Tapatai is the founder and president of Peter's Expediting Limited, run out of Baker Lake.
The 100 per cent Inuit-run company has provides services like offloading sealifts, providing transport to mining camps, and ground handling services at the Baker Lake airport. It's been in operation since the late nineties.
Tapatai was awarded Queen Elizabeth's diamond jubilee medal in 2012. That same year, he spoke to the House of Commons Standing Committee on Natural Resources in 2012 as a representative of the Hamlet of Baker Lake about what he witnessed as a mining project was developed, constructed, operated near the community.
Tapatai took the opportunity at that time to call for the federal government to invest in centralized education and training programs so Nunavut resident could participate in the economic development of Nunavut's non-renewable resource economy.
Before his business, however, Tapatai was a broadcaster with Inuit Broadcasting Corporation, eventually managing IBC's Baker Lake bureau in 1996.
He also developed a superhero character named Shamou who warned children about things like the dangers of huffing gasoline and getting into boats without adult supervision.
Additionally, Tapatai was a founding member of the Nunavut Business Development Corporation, and served on the Sakku Investments and Kivalliq Partners in Development boards.