BLOG: QIA Releases the Saimaqatigiingniq Fund Inaugural and Tallurutiup Imanga Annual Reports
Qikiqtani Inuit Association (QIA) is pleased to release the Saimaqatigiingniq Fund Inaugural Report and the Tallurutiup Imanga Annual Report. QIA is proud of the work that was put in to create these reports and we are excited to share them with you.
This kind of reporting is a continuation of QIA's dedication to financial accountability and transparency. QIA is committed to fiscal responsibility and sensible financial planning of funds intended to benefit Qikiqtani Inuit, in order to ensure that we not only have money for programs today but also resources available to serve Inuit in the future.
Saimaqatigiingniq Fund Inaugural Report
The Saimaqatigiingniq Fund arose from the work of the Qikiqtani Truth Commission (QTC). It is designed to address recommendations that relate specifically the Government of Canada's actions that harmed Inuit between 1950 and 1975, and continue to affect us today.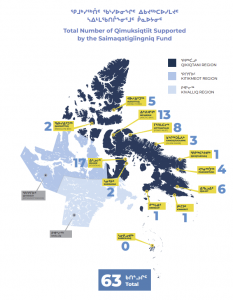 As a result of the QTC and Canada's apology to Qikiqtani Inuit, QIA has established Saimaqatigiingniq programs in three areas:
Acknowledging and Healing Past Wrongs
Strengthening Inuit Governance
Strengthening Inuit Culture
The Saimaqatigiingniq Fund Inaugural Report provides a history of the QTC and how the Saimaqatigiingniq Fund was created. It also provides details on programming such as Qimmiit Revitalization, History and Governance, and Travel and Healing.
QIA looks forward to continuing to grow the programs funded by the Saimaqatigiingniq Fund and is honoured assist in the healing process of Qikiqtani Inuit. Find the full Inaugural report on QIA's website here.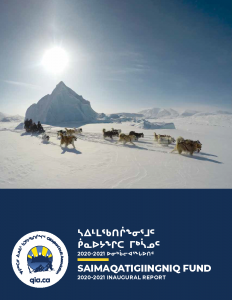 Tallurutiup Imanga Annual Report
The 2021 Tallurutiup Imanga Annual Report presents highlights of the great work our team has done to continue to expand programming in the Tallurutiup Imanga National Marine Conservation Area.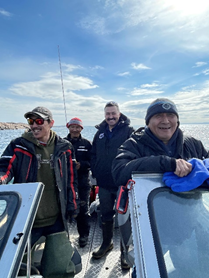 This past fall, we were excited to announce that two Nauttiqsuqtiit-Qimuksiit were hired to join our Nauttiqsuqtiit crews in Arctic Bay and Resolute Bay, as well as the expansion of Nauttiqsuqtiit program to Sanikilauq. The Nauttiqsuqtiit continue to work in our communities to address food sovereignty and have been working towards the development of an Inuit research and monitoring strategy.
Our team worked hard this past year to progress the planning of Tallurutiup Imanga infrastructure despite challenges due to the COVID-19 pandemic. This infrastructure includes Small Craft and Community Harbours, multi-use facilities in each Tallurutiup Imanga community, and a Regional Training Centre in Pond Inlet.
We are proud to share with you the growth of the Tallurutiup Imanga program through this annual report. Check out the full report on QIA's website here.