BLOG: QIA-funded album receives Juno nomination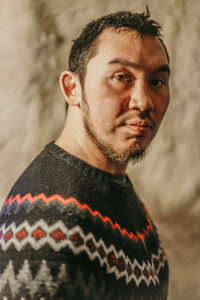 Qikiqtani Inuit Association is proud to hear that Terry Uyarak's album, Nunarjua Isulinginniani, has been shortlisted for the Indigenous artist or group of the year by the Juno Awards.
Uyarak told Nunatsiaq News that he couldn't stop smiling when his record label, Aakukuk Music, told him the news.
"It's absolutely unreal," he told Nunatsiaq News.
To read the article, click here.
Uyarak, who lives in Igloolik, released Nunarjua Isulinginniani in October, 2020.
Through the Ilagiiktunut Fund, QIA funded the creation, distribution and release of Uyarak's album.
The Ilagiiktunut Nunalinnullu Pivalliajutisait Kiinaujat was established through Article 12 of the Inuit Impact and Benefit Agreement between QIA and Baffinland Iron Mines Corporation. QIA set up the framework for the fund, and administers it.
Funding is available to people who live in the five communities most affected by Baffinland's Mary River mine—Pond Inlet, Clyde River, Arctic Bay, Igloolik and Sanirajak.
Funding is given to projects that demonstrate positive impacts for Inuit aiming towards resilient communities, strong families and job readiness.
Along with creating his album, the Ilagiiktunut Fund was meant for Uyarak to create videos based on dog sledding practices to market the album, and create and distribute 2000 CDs.
The idea with the album is that Uyarak's music will increase access to Inuktitut music in communities across the Qikiqtani region, and inspire Inuit to be proud of their language and identity. It is also meant to promote and strengthen passion for dogsledding, and strengthen the music and cultural industry in the Qikiqtani region.