BLOG: "LEARNING AS WE GROW" CELEBRATING THE HIGH ARCTIC NAUTTIQSUQTIIT ON WORLD OCEANS DAY
June 8 marks the United Nations' World Oceans Day. This year's theme is Innovation for a Sustainable Ocean. In the Qikiqtani Region of Nunavut, World Oceans Day is an opportunity to celebrate our work to establish Tallurutiup Imanga National Marine Conservation Area and gain interim protection for Tuvaijuittuq Marine Protected Area.  Combined, Tallurutiup Imanga and Tuvaijuittuq cover more than 427,000 square kilometres, which is larger than Newfoundland and Labrador. As a result of these agreements, approximately 14 per cent of Canada's oceans are now protected.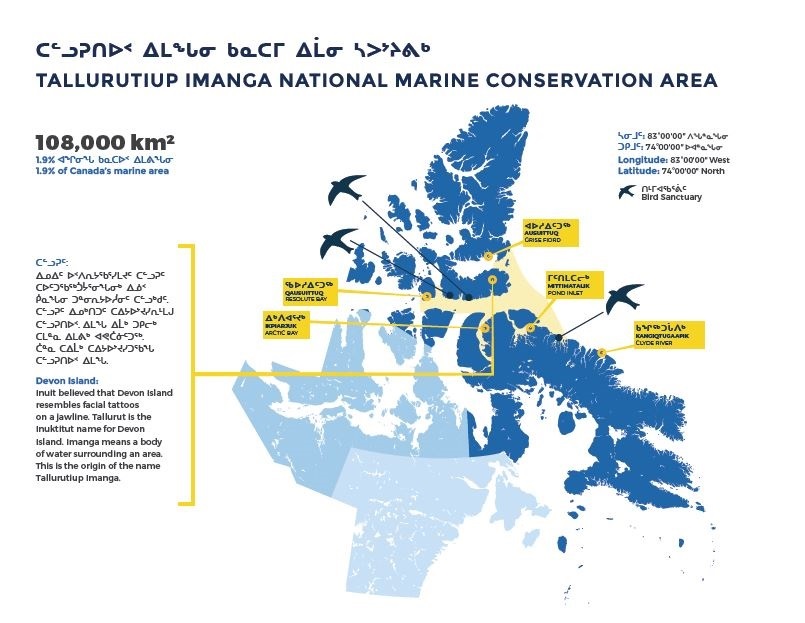 Tallurutiup Imanga National Marine Conservation Area was formally established in August 2019 with the signing of an Inuit Impact and Benefit Agreement (IIBA) between QIA and the Government of Canada. The IIBA includes provisions for the interim protection of Tuvaijuittuq Marine Protected Area.
Known as the Arctic Serengeti, Tallurutiup Imanga is the birthplace and refuge for nearly all species found in the Eastern Arctic. Tuvaijuittuq, which means "the ice never melts" in Inuktitut, is an area of particular ecological importance due to the presence of old, thick, multi-year pack ice. The organisms living in this area are abundant and diverse and sustain larger animals such as walrus and bearded seals. The areas' importance to the Arctic ecosystems is expected to become more critical as climate change melts sea ice. The multi-year ice has been key for travel and harvesting for Inuit in the region.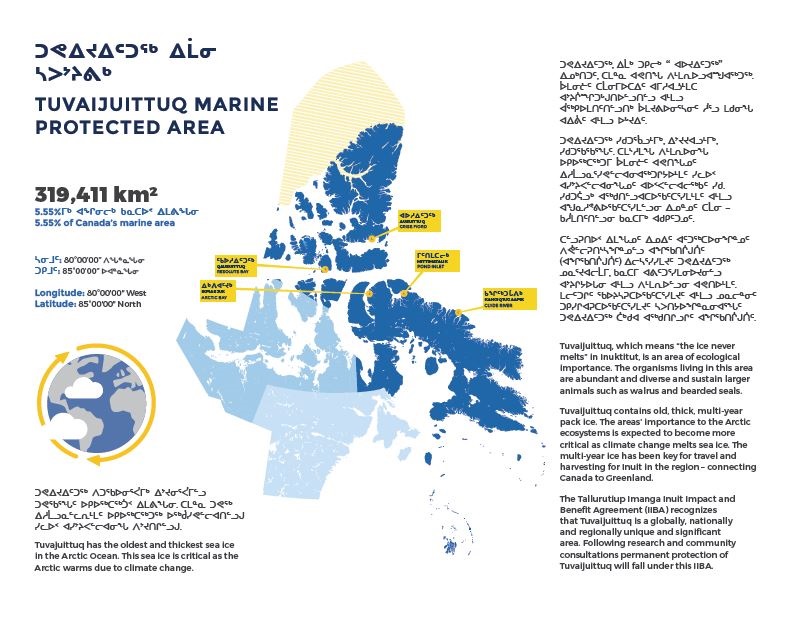 Tallurutiup Imanga and Tuvaijuittuq have sustained Inuit for generations. They are arties connecting communities and allowing travel throughout the High Arctic. Arctic Bay, Clyde River, Grise Fiord, Pond Inlet and Resolute Bay are the communities adjacent to Tallurutiup Imanga.
Through the establishment of the Inuit Impact and Benefit Agreement, QIA realized the vision of Inuit leaders who have been seeking protection for these waters since the 1960s in the face of growing oil and gas development interest.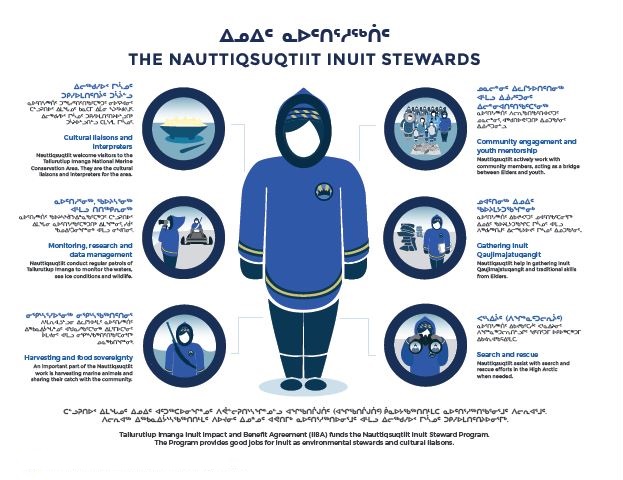 The Nauttiqsuqtiit, or Inuit stewards, are the eyes and ears of Tallurutiup Imanga National Marine Conservation Area, they monitor the lands and waters in the Region and harvests to benefit their communities.
We recently spoke with Laisa Audlaluk-Watsko in Grise Fiord, who after 15 years as the Community Liaison Officer (CLO), recently started her new job as Inuit Stewardship Community Supervisor.
"We're all learning as we grow," she says, "if I could help anyone in this new job I would like the challenge of helping the community too."
The Community Supervisors are leadership positions that oversee all aspects of the Nauttiqsuqtiit Program in Grise Fiord, Arctic Bay, Resolute Bay, Pond Inlet and Clyde River. They are responsible for planning and coordinating program activities, supervising and supporting Nauttiqsuqtiit teams, coordinating youth activities as well as managing equipment, data and reporting.
Audlaluk-Watsko says her work as CLO gave her a solid foundation for this work and she is looking forward to applying new skills on the land. She is proud to share her harvests with others now that the orientation phase has been completed. She is also looking forward to the growth and developments that the Nauttiqsuqtiit Program will bring to Grise Fiord.