BLOG: Last distributions of Emergency Vouchers for Elders in the Qikiqtani Region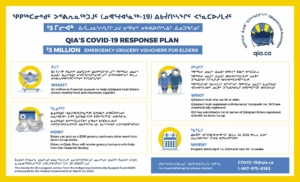 The Emergency Vouchers for Elders project provides short-term financial support during the COVID-10 pandemic to Qikiqtani Inuit Elders aged 60 years and older.
Since April 14th, QIA has worked with Arctic Co-ops Limited to provide eligible Elders with $250 gift cards that can be used at any Arctic Co-op store. In Clyde River, we worked with the Ilisaqsivik Society to provide food hampers under this program.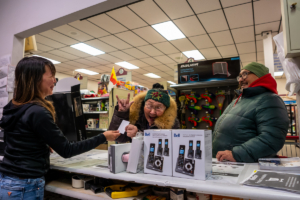 This is a reminder to Elders that your last gift card will be available for pick up starting on June 23.
Gift cards can be collected at your community co-op until June 30th.
In Iqaluit, gift cards can be picked up at Arctic Ventures
In Clyde River, the last two food hampers will be delivered on July 10 and July 24.
The gift cards can be used to buy groceries and supplies at Co-op stores. There are no restrictions on what you can buy with your card and the gift cards do not expire.