BLOG: How to manage COVID-19 related stress: Advice from an Elder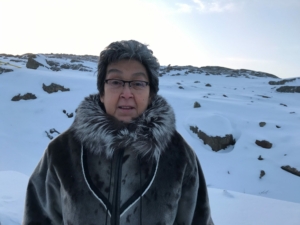 We reached out to Inuit Elder Elisapi D. Aningmiuq for advice on how to deal with the challenges of coping with the COVID-19 pandemic.
"We're going through something that is a real challenge to everybody right now, family-wise, community-wise, in the territory, the nation, and around the world," says Elisapi.
Elisapi recommends calling Elders and staying in touch with friends and family. She says that reaching out to others to share our thoughts and ideas can make a huge difference. Sharing helps ease our minds and helps us process our feelings and thoughts.
According to Elisapi, while this is a difficult time, it is also a time of growth.
"There is a saying in Inuktitut, if you don't go through challenges, you're not going to get much wiser," says Elisapi.
She also reminds us of the word, "Ajurnammat" which roughly translates to 'it can't be helped' or 'it's out of our hands.'  "We are reminded that we need to be at peace, even with things that we have to wait for," says Elisapi.
She says that in the past, when Inuit could not travel on the land because of poor weather, we were reminded to be patient and wait until the situation improved.
"In Inuit culture we cannot get away from our environment, so we make due with what we can," she says. "It's so important to be motivated, to be a self-starter, because that's the background that we come from."
In conclusion Elisapi ads, "we are going through challenges right now but there are better days ahead that's for sure."
If you are looking for help during the COVID-19 pandemic, there are a lot or resources available, here's a list of a few. Please share with your friends and family and stay safe.
It is important to take care of your mind as you would your body. Be patient with yourself and others and reach out for help when you are going through a hard time. Nurture your mental health by focusing on your strengths and accomplishments and practicing positive ways to cope with pain. Embrace the successes and challenges that have made you who you are.
Helplines are available to provide crisis support to those who may be experiencing increased anxiety and stress:
Nunavut Kamatsiaqtut Help Line: 1-800-265-3333
Elders' Support Line: 1-866-684-5056
Crisis Services Canada: use the online chat (www.crisisservicescanada.ca), call, or send a text to 1-833-456-4566
Isaksimagit Inuusirmi Kataujjiqatigiit Embrace Life Council's website (www.inuusiq.com), or call the toll free line at 1-866-804-2782
Native Youth Crisis Hotline: (1-877-209-1266),
Kids Help Phone: (1-800-668-6868)
Individuals who are at immediate risk of harming themselves or others should seek help immediately at their local health centre and/or contact the RCMP.
The Qikiqtani Inuit Association
As a part of the Qikiqtani Inuit Association COVID-19 Response Plan, we are providing emergency grocery vouchers for Elders and short-term financial support to Qikiqtani Inuit families wanting to social distance on-the-land and harvest during the COVID-19 pandemic. We also provide COVID-19 news and updates on our website including posters, videos and other resources that we have developed.
With support from the Qikiqtani Inuit Association (QIA), Kakivak Association has allocated $1.5 million to create two new temporary COVID-19 programs to help address the needs of the smallest, most vulnerable Inuit- owned businesses in the Qikiqtani Region, and to help ensure that Inuit remain employed.
The $1 million Qikiqtani COVID-19 Emergency Wage Subsidy Program will provide urgent wage subsidies to assist struggling businesses in the Qikiqtani Region avoid the lay-off of Inuit employees.
The $500,000 Qikiqtani COVID-19 Business Relief Program will provide small Inuit-owned businesses in the Region direct support for operating expenses to enable them to survive the negative impacts of the pandemic.
The Government of Nunavut provides updates, contact information for health centres and other resources available from the Department of Health.  Some of these resources include more information about the Coronavirus (COVID-19), social distancing, hand washing and managing anxiety and stress.
You can use the Government of Canada COVID-19 Symptom Self-Assessment Tool to help determine whether you may need further assessment or testing for COVID-19. You can complete this assessment for yourself or for someone else who may need help with this.
Canada's COVID-19 Economic Response Plan (CERB) is there to support Canadians during the global COVID-19 outbreak, including specific programs for youth, individuals, businesses and Indigenous people.