BLOG: Enter QIA's Song and Poem Contest for a chance to win $2500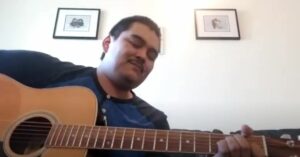 Qikiqtani Inuit Association's fifth annual song and poem contest is open now.
We are looking for short poems and songs in Inuktitut. They must be original. The deadline is February 19. The entries will be judged, and winners will be announced on February 26.
The prizes are really good this year. The first-place winner gets $2500! Second place gets $1750, and third place $750.
We want to encourage Qikiqtani Inuit to tap into their creativity and see what they come up with.
QIA celebrates Inuktitut Language Month in February, and this contest is part of the celebration.
The intent of Inuktitut Language Month is to promote Inuit languages and culture, and a sense of dignity and pride in Inuit heritage.
We have received some wonderful submissions over the past five years of the contest. Last year's first place song, Isiravin, was written by Jeremy Attagutsiak from Arctic Bay.
Isiravin describes "a person coming in and lighting up the room and lighting up the future with their energy," Attagutsiak said. He had been working on the song for a long time and was motivated by the contest to complete it.
We are looking forward to hearing what you will be motivated to create this year!
You can submit your poems or songs by posting them to QIA's social media pages.
If you're submitting a song, you can post a video of you performing it, and if you're submitting a poem post the words, or a video of you reciting it.
Find us on Facebook by searching for Qikiqtani Inuit Assoc. We are on Twitter and Instagram @Qikiqtani_Inuit. Post your song or poem with the hashtag #QIAInuk21 so we can find it.
You can also email entries to whopkins@qia.ca.
You can also go to your local QIA Community Liaison Office to drop off your entry or perform it for your Community Liaison Officer and have them record it. In Iqaluit you can come to the QIA office in the Igluvut building.
We are excited to see what you come up with! Email whopkins@qia.ca with any questions, or message us on Facebook, Instagram or Twitter.