BLOG: Arctic College student scores $7.5k art prize with "Finding Hope" necklace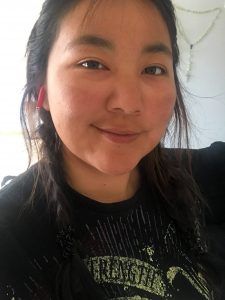 Arctic College's Ellie Tungilik won the BMO 1st Art! $7,500 cash prize for her original jewelry work on a necklace titled, "Finding Hope."
"Hope is a vehicle for a brighter day, for finding happiness and love," says Tungilik, who was recognized earlier this week as the regional winner for Nunavut.
Tungilik's winning neckpiece symbolizes a journey, the grief of loss and the hope of finding new love. Although this is the first time she has used silver and gold feathers in her jewelry, she said the biggest challenge was setting the Walrus tusk for the centre piece.
The BMO 1st Art! is an annual competition that invites deans and instructors from 110 undergraduate art programs across Canada to nominate students to submit work. A panel of industry experts selected this year's winning works from a pool of 295 submissions.
As one of the winners, Tungilik's work will be displayed in the first ever virtual BMO 1st Art! exhibition from September 15 to October 16 at artmuseum.utoronto.ca.
Since 2018, Tungilik has studied jewelry making in Iqaluit's Arctic College. She started working on this piece in May 2020 and had to complete it quickly to enter the competition. Tungilik is now working on finishing her studies, she is planning to use the prize money on making more art and jewelry.