BLOG: "Always good to help out" 11-year-old from Iqaluit sews to lend a hand during COVID-19
A lot can happen when people start using creativity to help others in need. Just ask 11-year-old Aubrey Sheppard, who is making face masks for the community during the COVID-19 pandemic. What started out as a fun task has become a project to help keep Iqaluit safe and raise money for Joamie school's breakfast program.
"It's always good to help out," says Aubrey,  "A lot of children, adults and families, don't have enough money to buy food, or a house."
To help her community, specifically her fellow classmates at Joamie School, the primary school in Iqaluit, Aubrey decided to do something.
In late April, Aubrey was taking part in a contest sponsored by the Nunavut Literacy Council for the most creative face mask, she decided to use her newly acquired skills to raise funds for Joamie School's breakfast program.
"I thought that maybe I could start selling some and donate money to the breakfast club," says Aubrey.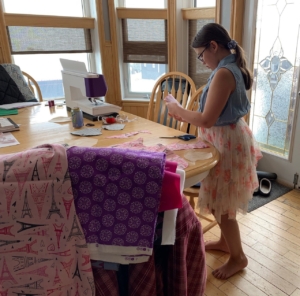 She's made about 40 face masks in the first two weeks and has donated over $100 to help keep the Joamie School Breakfast Program up and running while school is closed.
"I'm proud of myself," says Aubrey, "I want to keep making the masks because of COVID-19, it's been a little bit crazy, and you want to be protected and stay safe."
Aubrey is finding a balance between doing her school work and making masks. She says there were a few challenges with gathering materials to meet the demand. Thankfully, Emily Joanasie, owner and operator of Miqsuqta, is donating some supplies to support the project.
Do you know someone from your community helping others during the COVID-19 pandemic – send a note to szerehi@qia.ca