Blog: 'A huge help for my education!' Qikiqtani students react to getting new laptops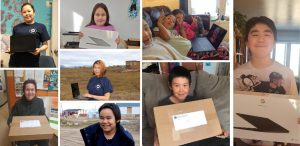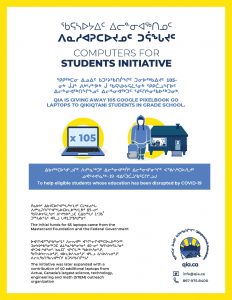 Earlier this week, we provided computers to students in the Qikiqtani Region to help eligible students whose education has been disrupted by COVID-19.
This initiative, funded by the Mastercard Foundation and the Federal Government, is designed to provide 65 Google Pixelbook Go laptops to Qikiqtani students between the ages of 8 to 18.
Following the launch of the initiative, Actua got involved and provided funding for an additional 40 laptops. Actua is a national charity that helps students build foundational skills in science, technology, engineering and math through workshops and summer camps.
We a hope these laptops will help Qikiqtani students do their best this school year by tapping into online learning opportunities and digital resources. Some of the students already got in touch with us to show their appreciation:
Amy Tulugajuk, Igloolik
"Thank you, it will be a huge help for my education!"
Scott Kilabuk, Pangnirtung
"I'm very thankful for the laptop!"
Oscar Atagootak, Pond Inlet:
"I just got a laptop and it feels great, I want to use it to learn about atoms. Thank you so much QIA!"