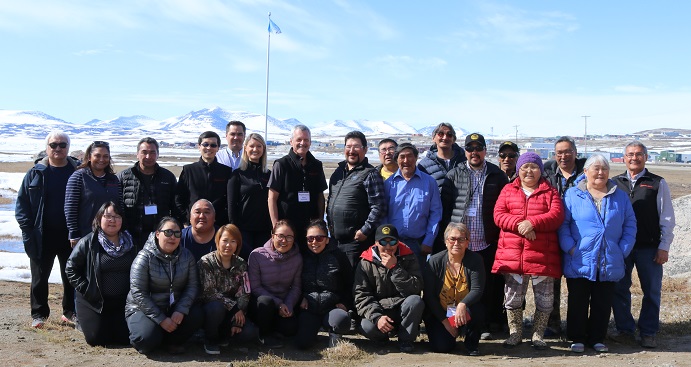 QIA participated in the 2019 Annual Project Review Forum and Community Feast at Clyde River last week.
This meeting is a requirement of the Mary River Inuit Impact and Benefit Agreement between QIA and Baffinland.
The Forum rotates through the five communities impacted by the mine. This year, it was hosted in Clyde River's Piqqusilirivvik school from May 28 to May 30.
The participants at the forum included, QIA Executive staff, Baffinland representatives as well as Elder and youth representatives from the five impacted communities.
The forum is an opportunity to review the impacts and benefits associated with the mine. It is also a chance for the public to ask questions and develop recommendations for improvements regarding the Mary River project.
This year the delegates from the Annual Project Review Forum had a chance to visit the Mary River mine. The group got a tour of the site and learned a bit more about the operations.
We had a chance to see the work at the mine from a distance. We also tried some of the simulation equipment used to train heavy equipment operators.
As part of the tour, the group visited the new residence at the mine called Sailivik, which includes a country food kitchen.
The best part of the mine tour was visiting with a few of the Inuit employees at the mine. We got to see them at work and talk to them about their jobs.
At the two-day meeting we discussed what has been accomplished in 2018.
QIA and Baffinland spoke about the work done to deliver benefits to Inuit. New benefits from the renegotiated IIBA such as the $2.25 million increase in the Inuit training budget from 2018 to 2021 were also discussed.
Community members expressed their satisfaction with the additional training provided to Inuit through the Q-STEP program.
The meeting was a chance for community members to suggest recommendations for improvement to both QIA and Baffinland.
Some of the highlights of the recommendations brought forward at the forum include:
ways to improve communications about the Mary River project and IIBA benefits
more focus on keeping Inuit working and helping Inuit through problems instead of losing them as employees
simpler process for accessing the Wildlife Compensation Fund
more information on contracts – and who gets contracts and why
All the recommendations have been collected and will be in a report. The report will be available in both languages on the QIA website and at the CLO offices.
QIA will continue to provide updates throughout the year and report on our progress at the 2019 Annual Project Review Forum in Pond Inlet.
As always, please visit our website qia.ca for regular updates on our work.
You can also get the latest news about Qikiqtani Inuit Association's projects on our Facebook and Twitter accounts.